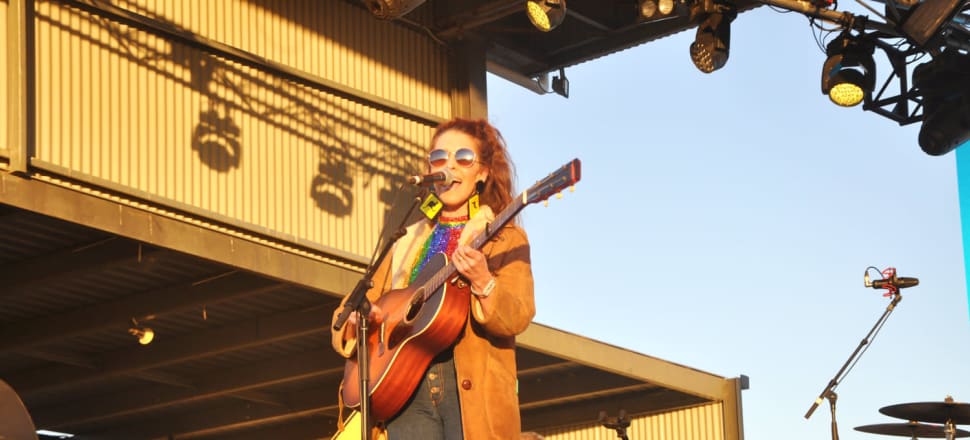 5370537724001
While performing in Deniliquin is not new for Fanny Lumsden, playing to the Deni Ute Muster crowd on its famed main stage was a whole new experience.
Fresh off a plane from America, Lumsden had a long journey to Wagga airport and then spent another few hours in a van with her band to make it to the festival for her Saturday night gig.
Speaking to the Pastoral Times from back stage, she said she was ''pretty pumped'' to have the chance to play at the iconic annual event.
''It's fun to get up on a big stage and play to a bunch of excited people who are having a good time; it's positive energy and I think it's really fun to vibe off,'' she said.
''It's definitely been a goal to play here and I think over the last few years, especially when gigging around, it just looks like such a fun show, and everyone always comes away saying they had a good time playing it.''
While she has played Gympie Muster and Tamworth Music Festival, Lumsden said her fellow artists pre-warned her about the energy of the Deniliquin crowd.
''I actually grew up on farm in the Riverina, so I have an idea of how they party,'' she said.
''My whole life I've heard about the Ute Muster but have never been. Things have always clashed, never had a good enough ute to bring or something.''
Lumsden was joined by her sister for her first muster experience, and the singer even brought her 12 week-old child along for the ride.
Lumsden played a selection of new and old songs at the muster, saying each really suited the crowd.
''My songs, because I grew up in the bush and touring round, are about regional Australia so I feel singing these songs to these people it feels like a natural fit.
''We have our Country Halls Tour we do every year, where we play out in little halls all over Australia. We've played at a hall 50 kilometres up the road from here (Deniliquin) and it was an awesome time, so there's nothing stopping us from coming back again.
''In the early days of the tour we had help from South West Music Conservatorium (in Deni)and have even done a workshop with them,'' she said.