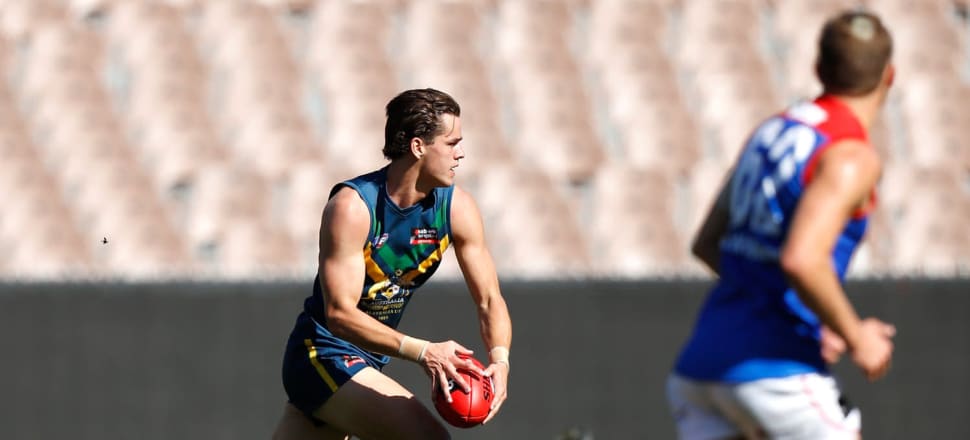 5370537724001
WITH each passing minute, the AFL dream for Echuca footballer Brodie Kemp creeps ever closer.
Despite being set to spend most of next season on the sidelines following a serious knee injury suffered while playing for Geelong Grammar earlier this year, Kemp looms as a potential first round selection in next month's national draft.
Earlier this month, the 18-year-old joined other potential draftees in Melbourne to undergo several days of club interviews, media questioning and testing - although he did not participate in the latter.
"The first two days was all media and interviews which were about 20 minutes long each," Kemp said.
"All of the clubs have different methods in terms of interviewing which certainly gave me a good perspective on how they like to operate.
"As much as I would have loved to have been involved in the testing, I was glad I was still able to provide support for the boys.
"Unfortunately for me, a lot is going to come down to what I produced on the field before the injury."
In recent seasons, questions put forward to the youngsters by clubs has become one of the biggest talking points from the draft combine.
For example, Noah Anderson - who is tipped to be a top two selection in this year's draft - was left stumped by one question he was asked by the Gold Coast Suns, telling SEN about his experience.
"You're standing at the train station and there is five people on the train tracks and the train is coming but next to you is a lever. If you pull the lever the train goes onto another track but runs over one person. Would you pull the lever?" he said.
But Kemp was fortunate enough to avoid questions of such complexity.
"It was actually quite interesting when Sydney asked me to pick one toy out of five. Then I had to explain why I chose that one," he said.
"It certainly opened my eyes to the psychological aspect of recruiting.
"I was pretty lucky because I didn't get too many hard questions which left me puzzled."
But Kemp's commitment to finding his new footballing home, started prior to the draft combine even taking place.
As is often the case, several clubs visited Kemp at his family home to find out more about their potential new star.
"A lot of clubs like to try and get a feel for the type of person who might be walking through their doors," Kemp said.
"Some elect to do an audio interview while others want to film it. I think the different aspects certainly made me realise how big this step is for clubs."
While the draft might still be more than a month away, clubs are well underway planning for next season, following the conclusion of the trade period on Wednesday.
But Kemp admits he doesn't take too much notice, even though it could impact upon his future.
"Being a Hawthorn supporter, I'm always looking at what moves the Hawks are making," he said.
"But other than that, I only really take notice of the big moves. With all the different factors in play now like live trading anything can happen.
"You don't know where you're going to be playing until your name is read out."
Although the draft looms large, Kemp like thousands of other students from across the country is preparing for his final secondary school exams.
That means footy has been moved to the back of his mind.
"A lot of stress is definitely coming from exam preparations," Kemp joked.
"At this stage I'm not looking to enrol myself in a university course for next year just yet, I'll probably want to put a strong focus into my rehab.
"I've always enjoyed business marketing and economics at school so I think that can incorporate sport with those would be good for me."
The AFL draft will take place over two days on November 27 and 28, with the first round selected on night one.