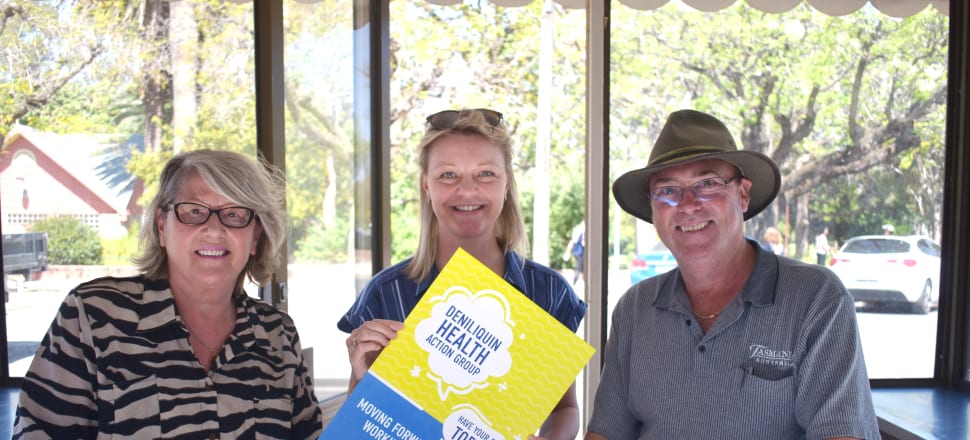 5370537724001
A full-time doctor at Deniliquin Hospital, more local doctors in general and ''appropriate'' maternity and mental health services have already been identified as key health target areas for Deniliquin and district.
They are just some of the suggestions already flowing through to the Health Action Group through its community survey.
The new group is encouraging everyone to 'Have Your Say' so the group has a strong understanding of what is important to local people.
It will then be in a better position to advocate for the health services the community wants delivered.
Health Action Group chair Dr Marion Magee said the group had been meeting regularly for several months and the survey was an important step in moving forward and working with health agencies to provide appropriate health services.
''The group was formed to identify the community's needs, and how we can improve overall health,'' Dr Magee said.
''We will then aim to achieve workable solutions.
''I'm sure there will be many other priorities for various individuals. That is why we are encouraging everyone to complete the survey.''
They survey asks:
● What is important to you about health?
● What else could happen to improve health?
A copy of the survey was inserted in Friday's edition of the Pastoral Times.
Members of the Health Action Group have also been at the Cressy St Kiosk handing out forms, and will be there again next Tuesday, November 19, from 10am to 2pm.
They were at the Naponda Farmers' Market on Saturday and will be at the Lions Community Market on Saturday, November 23.
Forms are available at local doctors' clinics and some local businesses, or can be found online.
The Health Action Group is also organising focus sessions with various local organisations, at which members will be asked to complete the survey.