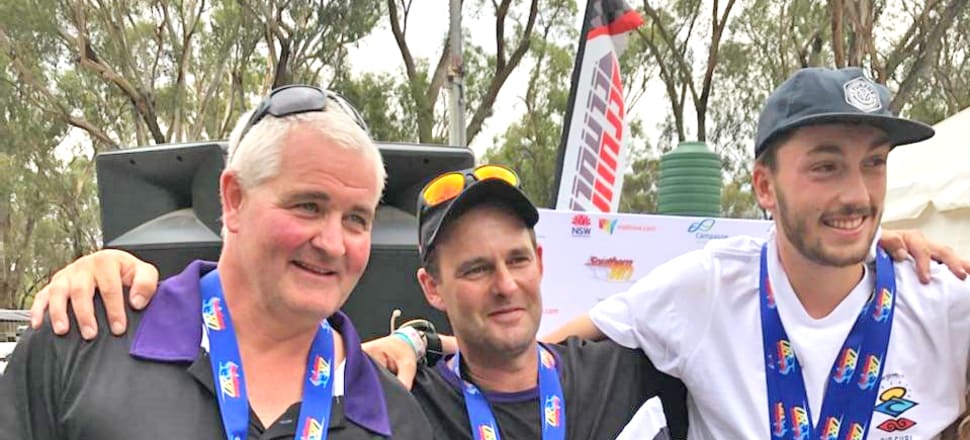 5370537724001
It was a family affair at Echuca-Moama's Southern 80, as father and son Brendon and Riley Fogarty both stood on the podium during the weekend.
Brendon, 52, skied with Hollow Point team and won Stock 6 Litre - Expert in a time of 37.29.
Riley, 19, teamed with former Mathoura skiier Josh Horne, 22, to win the Unlimited Inboard Naturally Aspirated - Expert with the Illusion Down Under team in a time of 38.29.
The Fogarty and Horne families have been members of the Deniliquin Boat Club for more than 20 years.
The Edward River provides the basis for the Fogartys' on-water training when holidaying in Deniliquin from Riddells Creek.
Riley said his Southern 80 win was most definitely his favourite.
''It was a very happy Fogarty camp on Sunday,'' he said.
''Winning the same year as my dad (Brendon) was a great moment for our family.
''We both put a lot of preparation into our skiing, with five to six gym sessions a week training cardio and strength.
''A lot of work has to be put in for an 80km race. With the amount of competitors and how long the course is, the Southern 80 is always the hardest race to win all year.
''We try to get to Deni once or twice a month to practice skiing as well.''
While it was a special day for all involved, the 2020 event was not the first time the skiiers had claimed victory at the Southern 80.
Brendon is still a record holder in the Stock 6 Litre - Expert event, with his winning time of 37.14 in 2015.
Horne claimed back-to-back wins in the Unlimited Inboard Naturally Aspirated - Expert, winning with Troy Evans as his partner in crime last year.
Riley said while he didn't team with Horne in last year's Southern 80, it was the pair's second win on the Murray River.
''We won the Barrie Beehag event together last year,'' he said.
''This year's Southern 80 was only our second time racing together. I've known Josh for a long time though, so we know each other's skiing capabilities.
''The win on the weekend was my first win at the Southern 80 in about five years, where I won a Social Class event.
''Hopefully we can come back and have similar success at next year's event.''