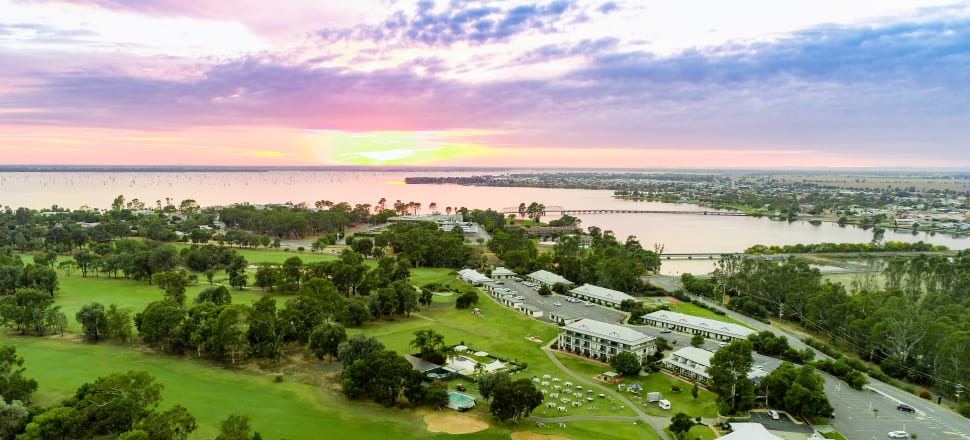 5370537724001
The biggest golf event ever on the Murray River will take place with the 2020 Australian Veterans Championships here at Black Bull Golf Club Yarrawonga and Yarrawonga Mulwala Golf Club Resort.
Over a $1 million direct economic injection into the local economy resulting from the event is estimated by Moira Shire Council which could reach $2.5 million with flow-on effects.
Involving 600 golfers aged 55-years and over throughout Australia, the national championships will take place Monday, November 30 to Friday, December 4.
"I bidded for the event because it was Victoria's turn to host the Australian Veterans Championships and early December was the best time for the event," tournament director at Black Bull Golf Club James McCully, told the Yarrawonga Chronicle.
"The Mornington Peninsula and the Bellarine Peninsula were bidders too.
"There will be 600 golfers from all around Australia and another 400 non-golfers - 1,000 people in total. Between our two courses we will be running 200 players per day per course, 600 a day.
"We expect 900 for dinner on the Friday at Yarrawonga Mulwala Golf Club Resort."
James' formal application had the assistance of tournament director at Yarrawonga Mulwala Golf Club Resort Evan Droop.
"Evan and I worked closely together on getting the event here," James said. "We started the process four years ago. Between our two clubs working together it will be the biggest event held on the Murray River.
"It showcases two great golf courses and facilities, our town and surrounding areas and attractions. Within Australia, Yarrawonga Mulwala has good access in particular for South Australian, Victorian and New South Wales' golfers and supporters."
The Australian Veterans Championships start with a 4BBB event on the Monday followed by a 54-hole event, but with a layday on Wednesday.
"On the layday there will be tours to what fantastic facilities we have, including the Farm Gate Trail, to wineries, and activities at all our clubs," James said.
Mr Robert Taylor who is on the committee of North East Vets after being secretary for four years, and 11 years including president of Victorian Veterans Golf Association, praised the bid by James and everything about the championships and venue.
"It's an enormous coup for the area," Rob said. "James and Evan have got the facilities; they have the wherewithal to run such an event.
"With Wednesday off, there will be day visits to wonderful, nearby places. Accommodation will be all booked out.
"They are two great golf courses. (The relatively new) Black Bull is another little diamond for golf in Yarrawonga/Mulwala."
Local golf fans will see plenty of talent at our golf courses, the 18-hole Black Bull Golf Course and Yarrawonga Mulwala Golf Club Resort's two courses, the Lake and Murray.
A good number of scratch and low handicap golfers will take to the fairways and have undertaken plenty of homework already.
Both James and Evan have met many veterans from other states who will be competing in the championships.
"About 50 players have played here and we've had a good chat," Evan said. "There have been players from Perth and Palmerston (Darwin) who have played here at Yarrawonga Mulwala Golf Club Resort and loved the course. All have said they are looking forward to returning."
The sentiments were repeated by James in respect of visitors to Black Bull Golf Club. "We expect good numbers from our region and certainly including Yarrawonga and Mulwala when entries open," he said.
The 2020 Australian Veterans Championship will be officially launched this Friday night at the Country Club and Casino in Launceston, Tasmania which of course will have local representation.