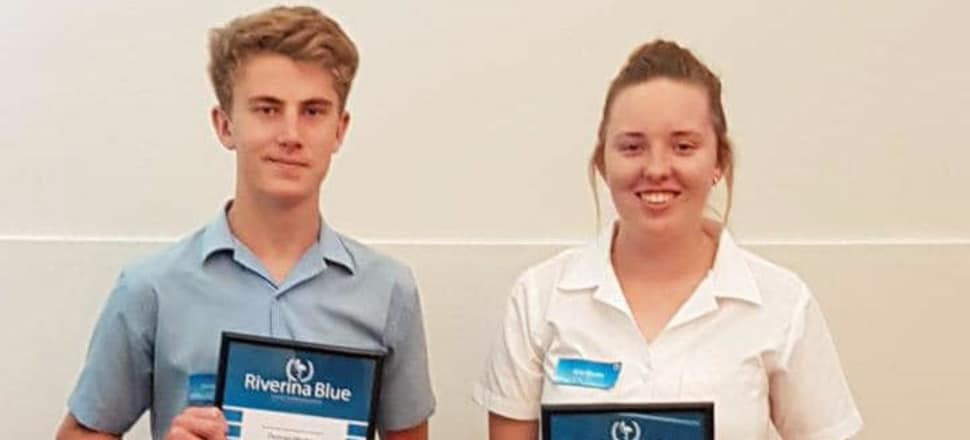 5370537724001
Two Deniliquin High School students were recipients of a prestigious Riverina Blue award in Wagga Wagga last month.
Amy Rodda and Duncan Hughes' achievements in their sporting fields were recognised by the Riverina School Sports Association at the Riverina Blues luncheon.
Amy received the honour for her achievements as a netball umpire.
The sporting house captain at Deniliquin High School had a citation stating she demonstrates excellent leadership skills.
Amy completed her C and B umpiring badges with Deniliquin Netball Association and has also participated in the Southern Sports Academy which increased her skills in umpiring at club level.
She has umpired at the Riverina PSSA netball carnival for the past three years as an emerging badged umpire, and also at the Western Riverina trials since 2016.
Amy was also selected to umpire at the NSWPSSA Championships in Sydney last year, gaining selection to officiate at the School Sport Australia National Under 12s Championships.
''Amy has devoted many hours to umpiring locally and has proven to be a consistent performer and a role model for younger players,'' her citation read.
''Her confidence and ability to umpire strong games led to her selection as a NSW representative umpire.''
Duncan received his Riverina Blue for his efforts on the football field.
He had an outstanding showing representing Riverina at the NSW AFL State Championships where his leadership coupled with ability to play in a variety of positions, saw him be a true match winner in the close games.
Duncan was Riverina Murray's major ball winner and used the ball exceptionally well.
His performance saw him be selected in the NSWCHS AFL team to compete at the National Championships in Adelaide.
''Duncan is a fantastic young man who shows great maturity,'' his citation read.
''He has a strong commitment to his sporting pursuits and this is also reflected in his school work. He is a role model to other students around what effort and commitment look like.
''Duncan is a highly skilled athlete and consistently demonstrates excellent sportsmanship. Duncan's work ethic, natural ability and skill combined with an innate ability to lead mean he is well respected by his peers and coaches.
''He adopted to all team practices without question and fully committed himself to the systems and philosophies that the coach instilled into all the team's players.
''Duncan made his absolute best attempt to successfully compete at this elite level to the best of his ability.''