A former Melbourne taxi driver and delivery truck driver have joined forces to process old-style, creamy milk in Shepparton.
The business is called Kisaan, and bottles and bags milk every second day to fill about 17,000 litres worth of orders for Shepparton and Melbourne customers.
The rise of the small milk processor is massive news for dairy farmers who've been crying out for new independent processors to enter the Australian market.
Jaspreet Singh and Surinder Singh have known each other since they first emigrated to Australia, and started Kisaan after seeing a demand for non-homogenised milk among Melbourne's Indian sweet bakers.
"There are about 20 Indian sweet bakers in Melbourne. Before we started doing milk in bulk bags a lot of them were using milk powder and it was not good," Surinder said.
"It was sweet but it didn't taste anything like the traditional sweets ... so we saw there was a market."
Both Jaspreet and Surinder come from farming families in Punjab, India where they grew up with fresh buffalo milk.
"Buffalo milk is creamier than cow milk and people have been missing that taste," Jaspreet said.
"Here in Australia people have been drinking homogenised milk for generations and it's only the dairy farmers who know what milk really tastes like.
"People in the know buy our milk because they know what non-homogenised means while those who don't just buy the cheapest bottle."
Kisaan milk is pasteurised to meet food safety requirements but isn't homogenised.
Homogenisation is a practice used by companies to make milk more aesthetically pleasing, extend its shelf life and stop a layer of cream from forming on the surface.
"We've been doing dairy processing since 2017 but there were ups and downs," Jaspreet said.
The Singhs first tried creating Indian cottage cheese but it wasn't a hit.
After upgrading to a bigger facility they secured a contract with another dairy business to process fresh milk in 2019, but the real turning point was the Dairy Code of Conduct being realised on January 1, 2020.
The code was introduced by the Australian Competition and Consumer Commission to help clean up the dairy industry, which was dominated by a handful of powerful processors.
The code ended the practice of processors locking farmers into contracts that require farmers to not supply any other milk processor.
These contracts could last years and were designed to smother competition.
"Getting farmers was quite difficult because in the early years they were in contracts with their processors," Jaspreet said.
"But when the ACCC ended exclusive agreements that was an opportunity for us."
The Kisaan plant in Mcharry Place, Shepparton, takes five people to operate. It runs for about 10 hours every second day with the milk tanker coming in the night before.
At the moment Kisaan works with three farmers in the Katandra West area.
Fiona Rourke is one of those farmers and runs just under 100 cows.
Ms Rourke said without Kisaan her farm would have collapsed during the 2018-19 dry period.
"I call him (Jaspreet) Jassie. He gave me a funny look but I said 'nah mate, it's a badge of honour, you're a good bloke'," she said.
"I wouldn't have made it through the 2018-19 dry spell without them. They were paying 14¢ more than the average joe."
Ms Rourke said she started out supplying Kisaan 200 litres twice a week and was now supplying 3000 litres every second day.
"I was their second farmer and was there for the cottage cheese," she said.
"I've never known blokes to work like them. Jeez, they worked hard and now they have employees. Surinder was driving taxis in Melbourne, coming up at night to process milk and going back down to drive taxis the next day."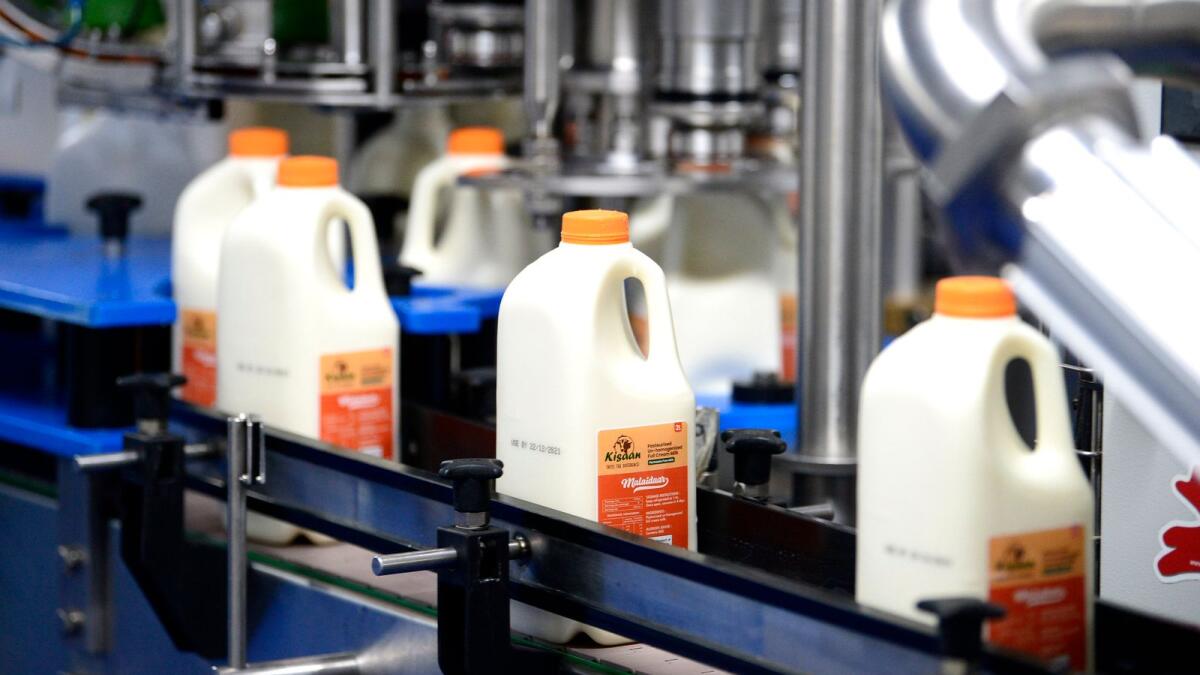 It's been nearly two years since the dairy code was introduced and the pair estimates nearly 90 per cent of Indian sweet makers in Melbourne are now using Kisaan milk, completely changing the quality of sweets in the city.
COVID-19 showed the pair there was a demand for non-homogenised milk in the household market as well.
"When Daniel Andrews announced we were going into lockdown in March 2020 we had a little van by then. I'd filled it with milk and was driving to Melbourne," Jaspreet said.
"I rung the sweet bakers and one by one they said 'no, we don't need milk any more, we're going to shut down'. So I was thinking, what am I doing to do with 1000 litres of milk?
"I had some friends in Craigieburn and they were the turning point of our story. I gave them some milk for free and a neighbour came over to ask how much the milk was."
After that the friends got busy calling people they knew, looking for buyers.
"The next day we had a lot of calls so we sat down and decided to make a website," Jaspreet said.
Shepparton stores that stock Kisaan milk include: Sri Muruguan (across from Kmart), Authentic Spice Mart (St Georges Rd shops), Indian Spice Land (Archer St shops), Delhi Haat (Corio St) and Katamatite Fuel Station.