Record run for commodities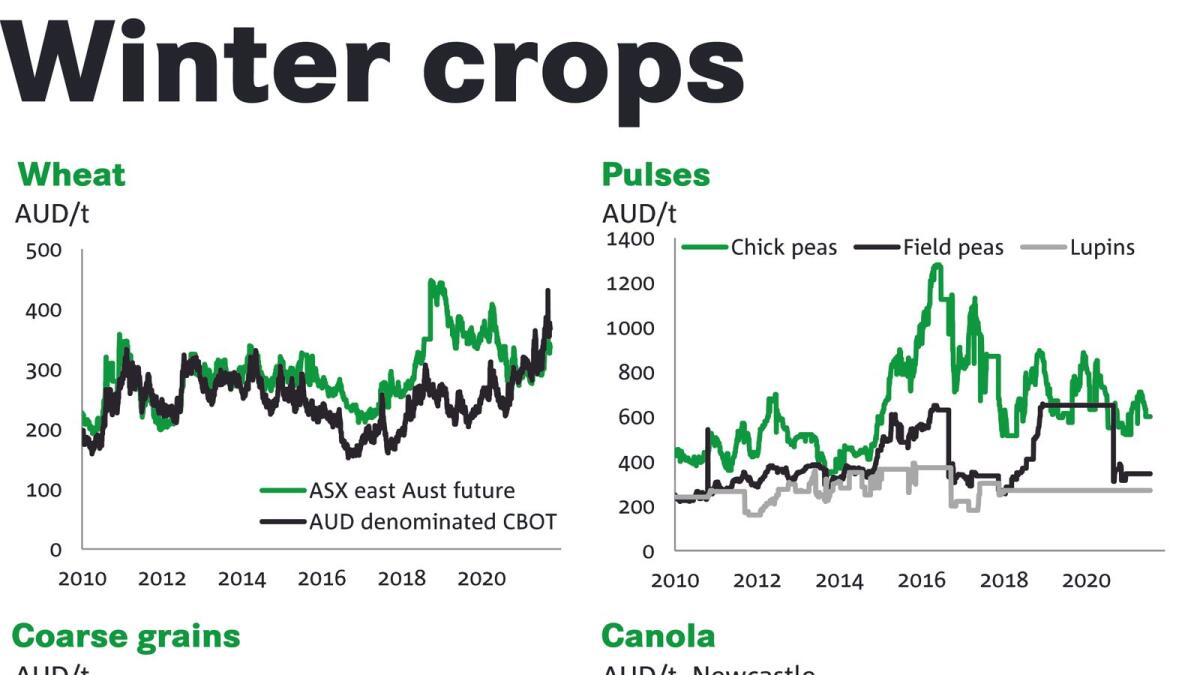 The Australian agricultural sector continues to go from strength to strength, driving the NAB Rural Commodities Index 19.7 per cent higher than this time last year, to reach its highest ever level.
NAB's September Rural Commodities Wrap reports potential further upside for agricultural commodities, with the Bureau of Meteorology's latest ENSO outlook indicating a 50 per cent chance of a La Niña event this spring.
NAB agribusiness economist Phin Ziebell said a La Niña event could trigger even further gains in rural commodities.
"The BoM has upgraded its ENSO outlook to La Niña watch, with three of seven models pointing to a sustained La Niña event, lasting into 2022," Mr Ziebell said.
"This is reflected in the BoM's long-range forecasts, which point to a wetter than average spring and start to summer, excluding Western Australia.
"These conditions could drive gains in already eye-watering cattle prices, and will underpin an excellent winter crop.
"While root zone moisture is currently sitting below average in many cropping regions after below average September rainfall, this is unlikely to impede a good season."
While the Australian Bureau of Agricultural and Resource Economics and Sciences forecasts a wheat harvest of 32.6 million tonnes, just below last year's all-time record, NAB expects conditions could see this forecast exceeded.
"We have Australian wheat prices pencilled in around the $350/tonne mark for December," Mr Ziebell said.
"This combination of price and yield is likely to be one of the best in Australian history."
A rally in global oil seeds continues to underpin high canola prices, while barley prices remained comparatively low despite some gains in feed barley prices.
Farm input prices continue to rise, with NAB expecting the trend to continue for the rest of the year, reflecting rises in global oil and grain prices, a weaker Australian dollar and high shipping costs.
"Our feed grain price index has been trending upwards since a low in November 2020, reflecting higher global grain prices and the weak AUD. If global prices continue to rise, there is scope for further upside despite plentiful domestic supplies."
The Australian dollar continues to underperform, with NAB's forecast pointing to an up-tick to 0.78 US dollars by the end of the year.