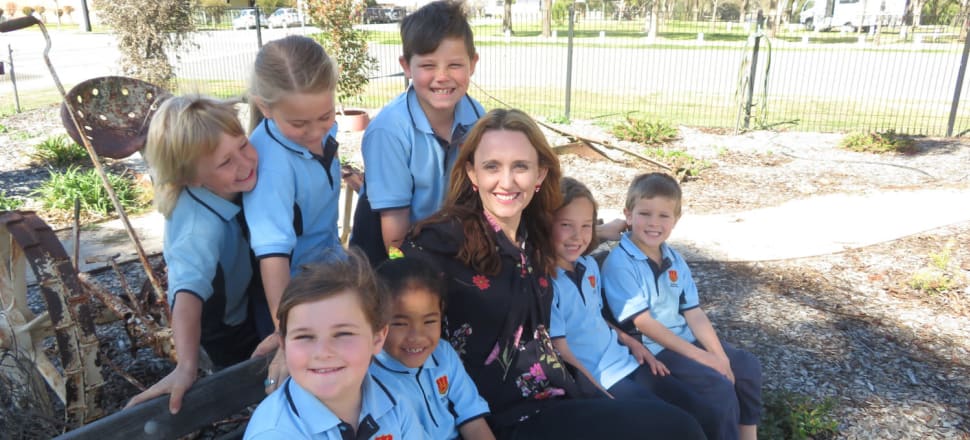 5370537724001
The development of a more inviting school is one way Moulamein Public School is trying to combat the impacts of drought and water reform on the community.
Moulamein Public School principal Jennie Wilson said she was inspired by the challenges being faced by the community to do more to ease the pressures on families and the 60 students.
Ms Wilson is working to improve the school and its relationships with the community, putting families in touch with mental health resources, helping to organise food hampers where needed and tapping into the community to reach their goals.
"(Our students) get on that bus and they come to school and they have a really great day," Ms Wilson said.
"They are coming to school because they want to come to school. They actually nag their parents to come to school, which is exactly what I want.
"If (the families) are not worried about school then that is one less thing that they need to worry about in their life.
"I have used the power of creative arts to get our students at the school. I found a lot of my students needed to improve their self-esteem and they needed to build some confidence.
"Creative arts can do that. I am very lucky to live in a community where we have practising artists and an art gallery and creative arts is a passion of mine as well.
"I also changed the grounds at the school. I made sure that our school looked good and everyone wanted to be there.
"Half the school had locks on the doors. I broke open the locks and we have renovated, and we have done that ourselves with the help of the P&C, and we now have a music room and a technology room.
"Now these children have all these amazing facilities that they didn't once have."
Ms Wilson is also continuing to make positive changes for regional teachers and principals who struggle to access courses and training because of distances.
"I knew that other principals needed professional learning for their teachers as well so I took a chance really and I decided to be innovative for myself and start a thing that I now call 'The Literacy Den'," she said.
"I designed the course around the teachers needs rather than what I thought they needed. They had a lot of input to what the course was about.
"And if I was going to put some professional learning in place for my teachers then why not invite other schools?
"Now teachers travel to my little school twice a term. We had about 25 or 26 teachers from long distances at first, and now we have more than 60 people coming to our school in the middle of nowhere."
Mrs Wilson's passion for her community was noticed by the NSW Department of Education, which invited her to be a part of its Every Student Podcast.
"Our name was put forward as a possibility by our supportive director Helen McRae to head office in Sydney about the work we are doing at Moulamein Public School," Mrs Wilson said.
"So the process started mid-term and I travelled to Sydney to record the podcast."
For Mrs Wilson, it is important to highlight the importance of rural and remote education and to discuss some of the great initiatives that happen in the Deniliquin region.
"It is also a chance for teachers in the regional areas to learn about how we can overcome the tyranny of distance and be problem solvers and innovative," she said.
"It is important that the work of teachers and school in our rural areas are included in podcasts. Just because we are remote, we do count and matter.
"Working remotely is very challenging but also very rewarding and the podcast was a great way to promote working in these areas.
"Hopefully it will inspire teachers to apply for more jobs in remote areas."
The interview is featured on the department's website.
"Smalls schools are great schools, so we should be included in the face of Department of Education," Mrs Wilson said.
"It is nice for our town to have this exposure. It is also nice for my teachers to be acknowledged for the great work they do at Moulamein.
"Success comes from great team work, and included in that are the local community who care deeply about our school and support it."