$66m announced to upgrade Basin Plan modelling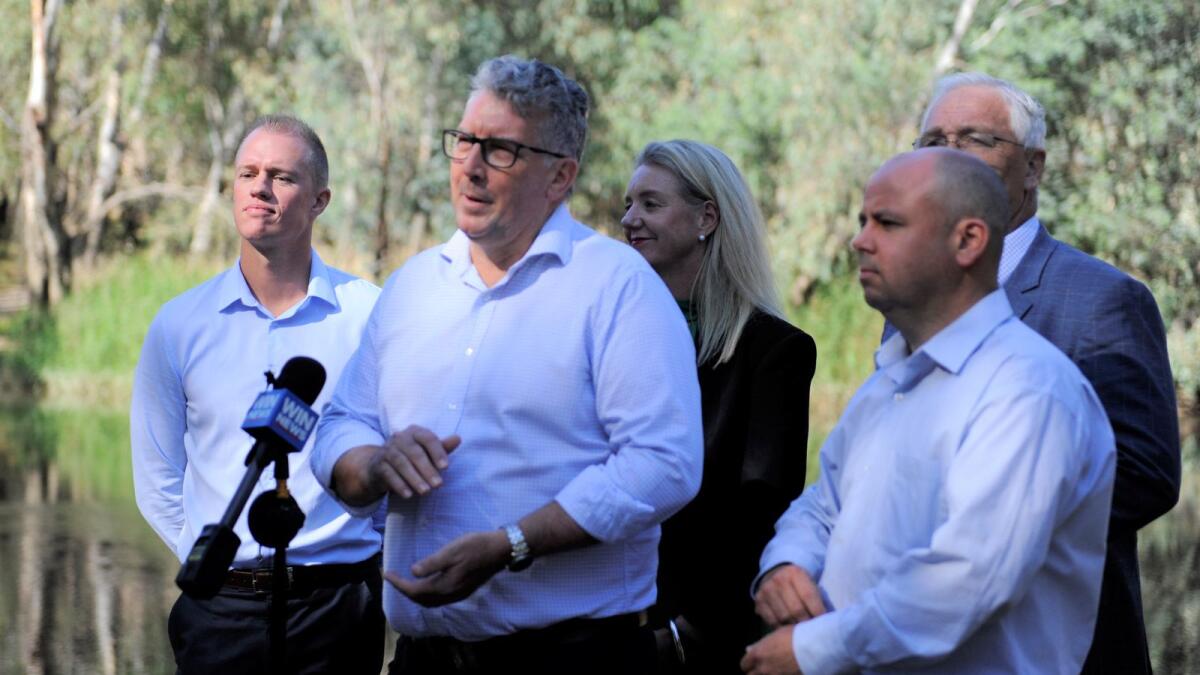 The Federal Government has committed $66 million on what effectively is an IT upgrade to improve Murray-Darling Basin Plan modelling.
The millions will go towards connecting the 24 different basin models currently monitoring inflows and water take.
Federal Water Minister Keith Pitt announced the investment at the Shepparton boat ramp on Wednesday, January 19.
Mr Pitt said the $66 million would bring the modelling up to the "current century".
"That's a lot of software, a lot of programs, a lot of scientists and a lot of work but we'll have it complete by June 2024," Mr Pitt said.
"Currently there are some 24 separate models within state and territory governments that run separately that have to be tied together."
A whole-basin modelling system will allow the Murray Darling Basin Authority to more accurately track the impacts of fires, floods and policy measures across the entire Murray-Darling Basin.
Liberal candidate for Nicholls Stephen Brooks said the modelling upgrade would bring parts of the northern basin in line with the southern basin's standards.
"Here in the southern basin our measuring and modelling is done down to the litre," Mr Brooks said.
"When you are talking about improving measuring and modelling, that's really about the northern basin and that's something we (southern communities) have been advocating for over a decade."
Mr Brooks said it was hard to make informed decisions about environmental water flows locally when water authorities were not confident about how much water was being taken from the system by floodplain harvesting and northern irrigation — such as cotton.
Federal Member for Nicholls Damian Drum said better modelling would allow authorities to deliver water to farmers more accurately.
"For the everyday operation of the river, this is the sort of investment our farmers are crying out for," Mr Drum said.
"When a farmer in the Goulburn Valley needs that amount of water, it's up to the river operators to work out 'do we release that from a storage somewhere or can we give this farmer his allocation through the river flows'. This will lead to a more accurate assessment of what's in the river itself."
The announcement was also attended by Victorian Senator Bridget McKenzie and Nationals candidate for Nicholls Sam Birrell.
The announcement at the boat ramp was the first big "election season" event for the Nicholls electorate and proves water politics will be a battleground issue among the National, Liberal and independent candidates.
HEALTHY RIVERS FUNDING
Damian Drum announced three new local projects which will plant thousands of trees, install fencing and attack erosion and invasive weeds.
"Just north of Seymour there is going to be a southern pygmy perch restoration project to bring all these perch back into the river," Mr Drum said.
"Also over at Rowan Swamp near St James there is going to be a restoration project there. We're putting nearly $100,000 into both of these projects."
Rowan Swamp has spent the majority of the last few years dry, but Nature Glenelg will be working with First Nations to rebuild the area into critical habitat for migratory bird species and a pocket of endangered grassland.
The third project is billabong restoration work on private land in Bearii.
The three projects will cost $282,848 and are funded through the Murray-Darling Healthy Rivers Program.