A Brown Swiss cow has topped the auction at International Dairy Week, selling for $27,000 in an auction which averaged $7131.
The Brown Swiss — Tandara Glenwood Heidi 303 VG 85 — was sold by the Govett family of Dingee.
Tandara Glenwood Heidi's closest competition was young Ayrshire Finesse Reagan Maisie which sold for $11,000 after being added to the auction at late notice following her junior champion win in the youth show.
Both animals were paraded before the crowd, making them stand out at an auction which largely showed videos of its 39 lots.
The STG 'Create the Future' all breeds sale was auctioneered by Brian Leslie from Dairy Livestock Services.
"The concept (of the auction) is quite different to years past," Mr Leslie said.
"We have lots on site but we will be selling a lot virtually."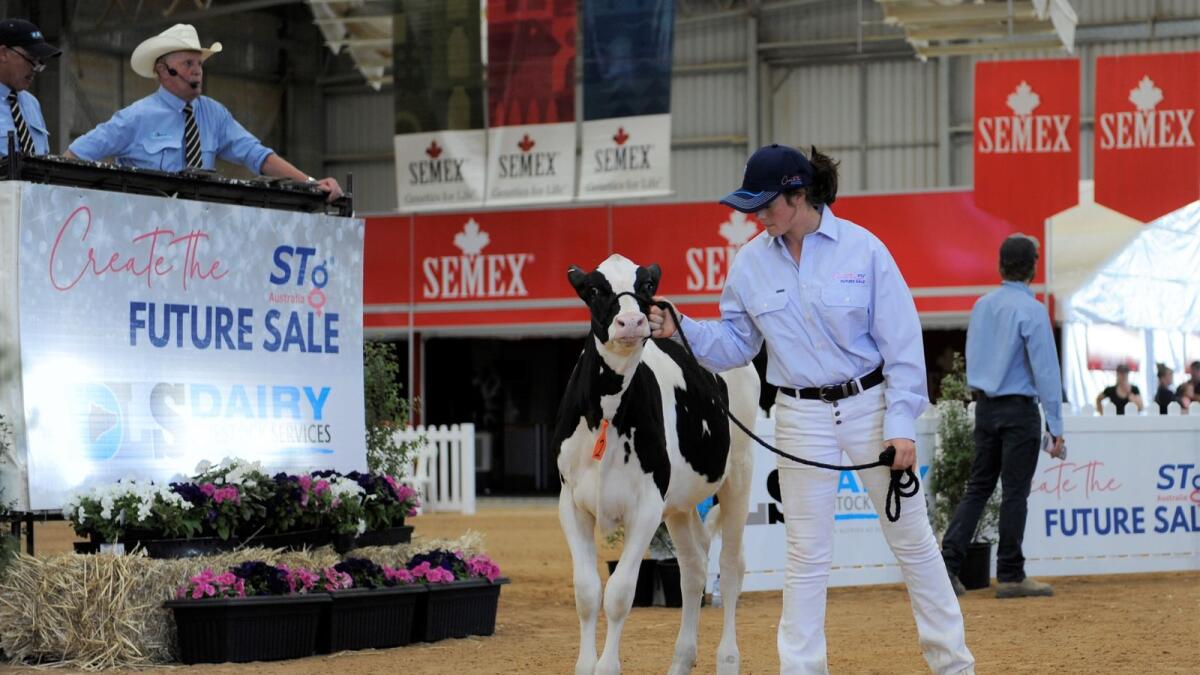 Of the 39 lots, only 12 attended the auction in person (or 'in-cow').
The rest were filmed on their farms by STG Australia.
Lot 5, Cypress Grove X43 Doorman Tabaret was when the price started to jump up, reaching $8000.
Lot 7, Murribrook Sidekick Vera became the first of many to reach a clean $10,000.
Lot 10, Guye Holdings Fortnite Monterey Silk 2146, joined the $10,000 club soon after as did Lot 11, Winwood Mirand Gucci-po.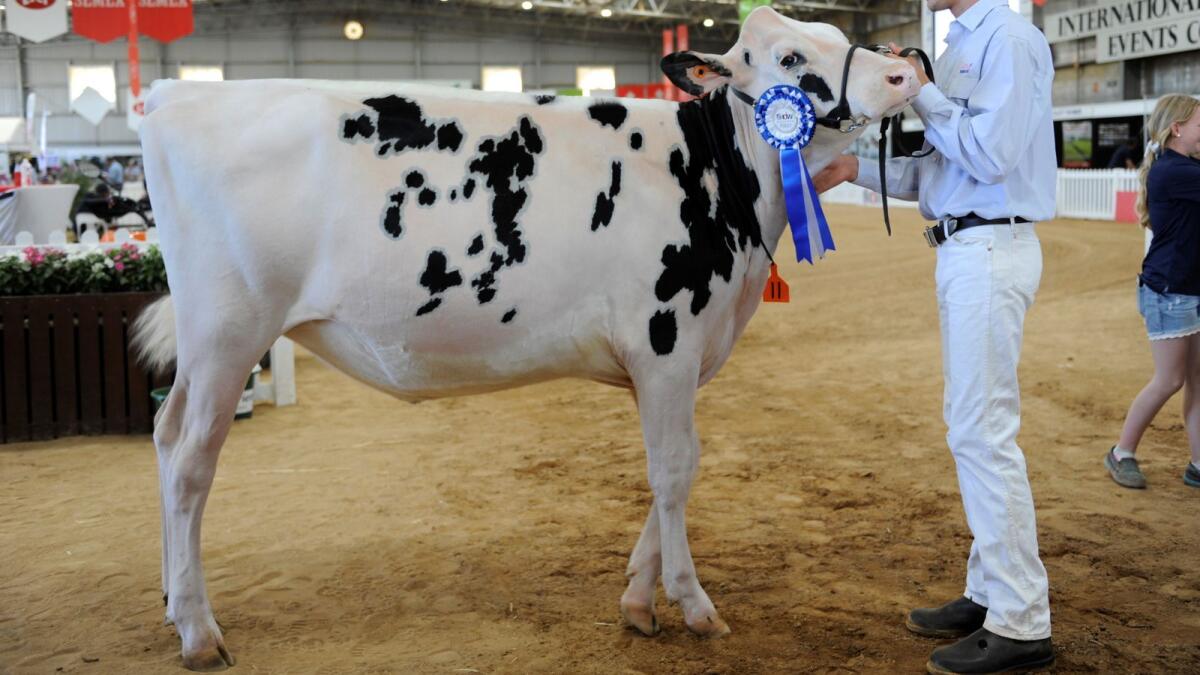 Lot 14, Lightning Ridge SMDW Chief Vera, became the first to crack the $10,000 ceiling, selling at $10,500 for her vendor Declan Patten.
The next six lots, all black and white Holsteins, hovered between $3500 and $5000.
Lot 21, Gorbro Sunsupreme Joan, was the one to break back into the high figures, utilising her Grand Champion and Best Udder IDW 2018 mother and Red Holstein genetics to reach $10,500.
A fellow Red Holstein, Lot 22, Brookleigh DC Ally, wasn't too far behind on $9500.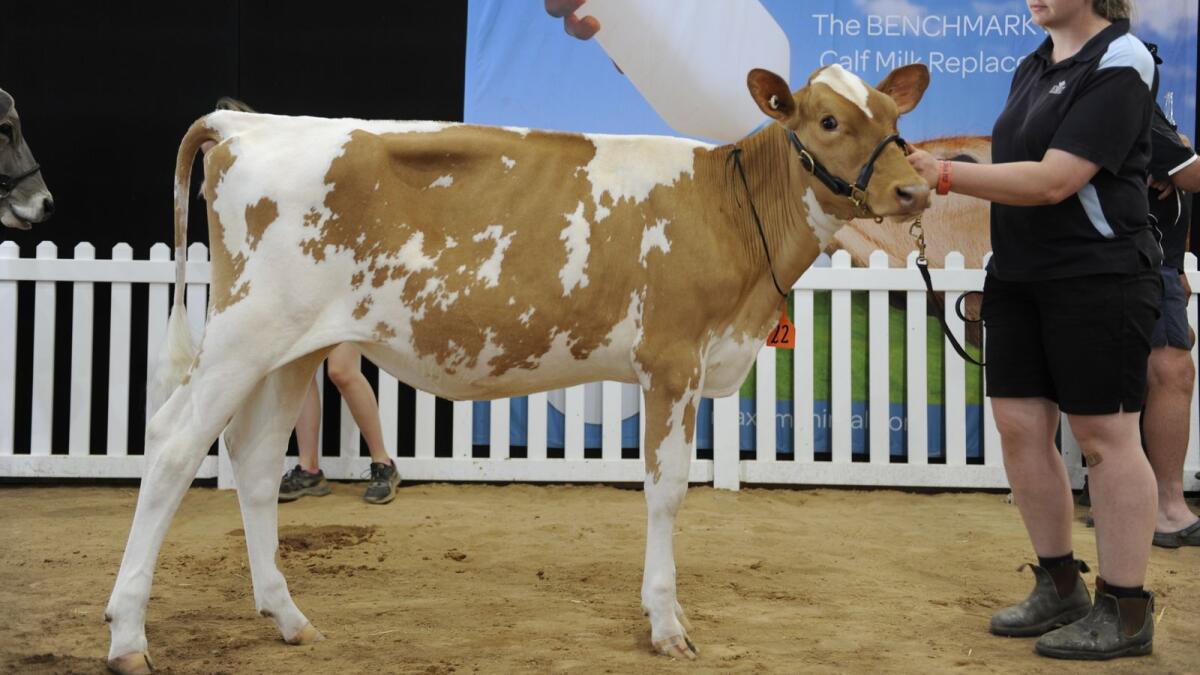 After the Red Holsteins came the Brown Swiss cow who blew it out of the water with her $27,000 price tag.
She was followed by fellow Brown Swiss lots Sherbrroke Superstar Babz ($7500) and Linderlan Kingsley Sigrid ($6500), both owned by the husband and wife team of Emily Brown and Steve Fisacaro.
Mr Fisacaro said the auction was a good opportunity for them to share genetics and give others an opportunity to build their own lines.
"The family of (Linderlan Kingsley Sigrid) won us a senior champion many years ago," Mr Fisacaro said.
"It can be hard to let them go, but it's important to give someone else a chance to work with good families like these."
After the three Brown Swiss came the three Ayrshires on offer, beginning with the late entry Lot 26A, Finesse Reagan Maisie, who picked up second-best price.
The two other Ayrshires were from Gippsland's Munden Farm, with Lot 26 fetching $8000 and Lot 27 getting $7000, outclassing the bulk of the Holsteins.
Owner Karl Munden said he hadn't planned on auctioning off Lot 26.
"We put her in last minute so they could have another Ayrshire lot," Mr Munden said.
Partner Imogen Steiner said she was sad to see the heifer go and would've kept her if she could.
The rest of the auction was about the Jerseys which priced between $4500 and $8500.
The highest price for a Jersey was achieved by the very last cow on offer, Lot 37, Warrain Casino Empress 8, which was sold by John and Marg Cockerell.