Celebrating 20 years with a new role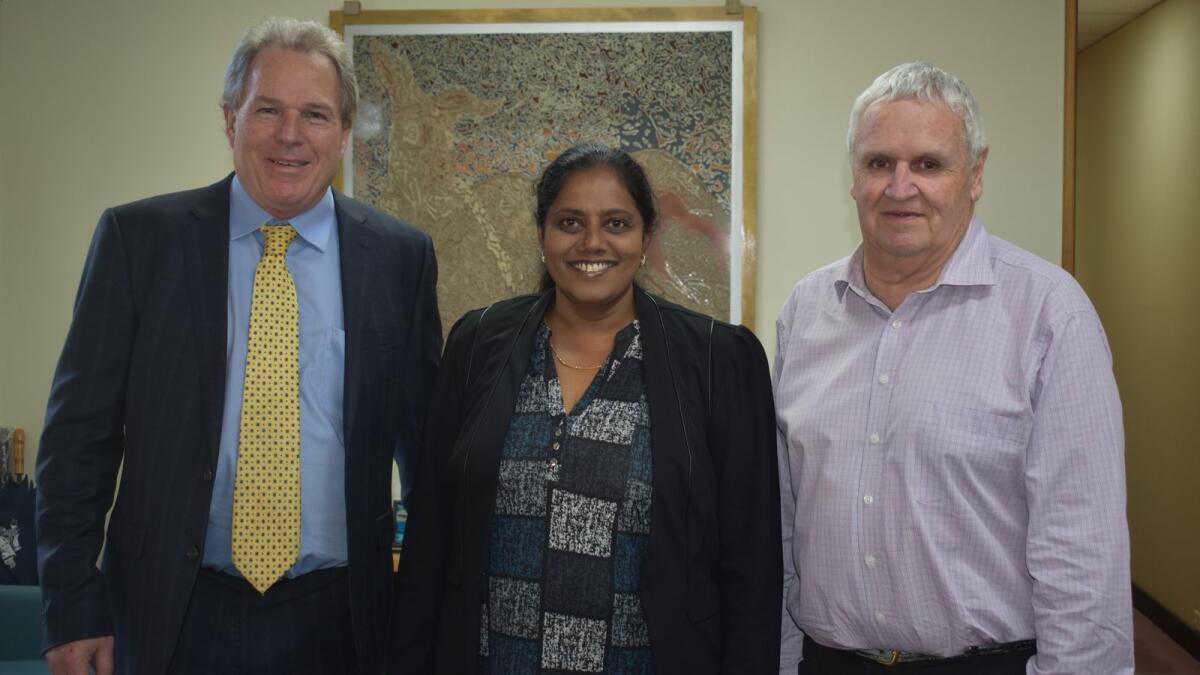 Priscilla Jebatharshanan enjoys her work so much, she says Fleming Partners is an inseparable part of her life in Australia.
And so, in her 20th year with the accountancy firm, Priscilla's dedication has been rewarded.
She has been made partner.
While this was not her original goal - because all she wanted to do was do her job well - Priscilla said it is an honour to share the role with Michael Fleming and Graeme McKindlay.
But she said she does not expect much to change.
"I have always thought of Fleming Partners as 'our' business - I never thought it is somebody else's business.
"And it's not just me. Most of the staff at Flemings think and work as if it is their own business.
"I can say that Fleming Partners made me a professional, as they identified my potential and I was able to learn my accounting methods, taxation, communication skills and relationships with staff and clients.
"I was trained by Graeme and it is his guidance and his professionalism which I can say brought me to this position as a partner.
"I want to thank and praise God for his guidance, wisdom and provision for all these 20 years, and the partners Graeme McKindlay, Michael Fleming and John Mulham, who retired last year, for their advice and guidance.
"Thanks also to my colleagues for their support, the clients who always appreciate our work, my mother Grace Selvarajah who as a young widow educated me and brought me up with good morals and work ethics, and my husband Gabriel Paramalingam who is always very supportive.
"My friends and my extended family have also helped me in lots of ways in my 20 year journey.
"I am looking forward to work more and more years at Fleming Partners, serving the clients and the community to the best of my ability.
Priscilla has a Bachelor of Commerce from the University of Jaffna and Post Graduate Diploma in Business Management from University of Colombo, both in Sri Lanka.
As she was given free education she had intended to stay in her home country and 'give back', but after seven years in government service ware broke out. She migrated to Australia under a skilled migration scheme.
Her introduction to the local community came through her cousin Chris Arul, who was working with Concept Computers in Deniliquin.
She decided to stay, and Fleming Partners helped her to gain her professional qualifications with CPA Australia.
Priscilla said she has found happiness in Deniliquin, and a new extended family - her family at Fleming Partners, and her family at the Deniliquin Baptist Church.
"It is a pleasure to work at Flemings, as the staff relationship is like a family.
"Every day we learn new things and I still think I have long way to go in my career."
Graeme said welcoming Priscilla as a partner was a case of natural progression.
"It has been terrific to see Priscilla develop her skills and knowledge of the industry and community," he said.
"She was effectively undertaking the role of a partner for a period of substantial time, managing clients, and it is a privilege to have her as a partner."
To speak to Priscilla or the Fleming Partners team about your financial needs, pop into the office in the Mulwala Plaza, off George St, Deniliquin, or phone 5881 1377.