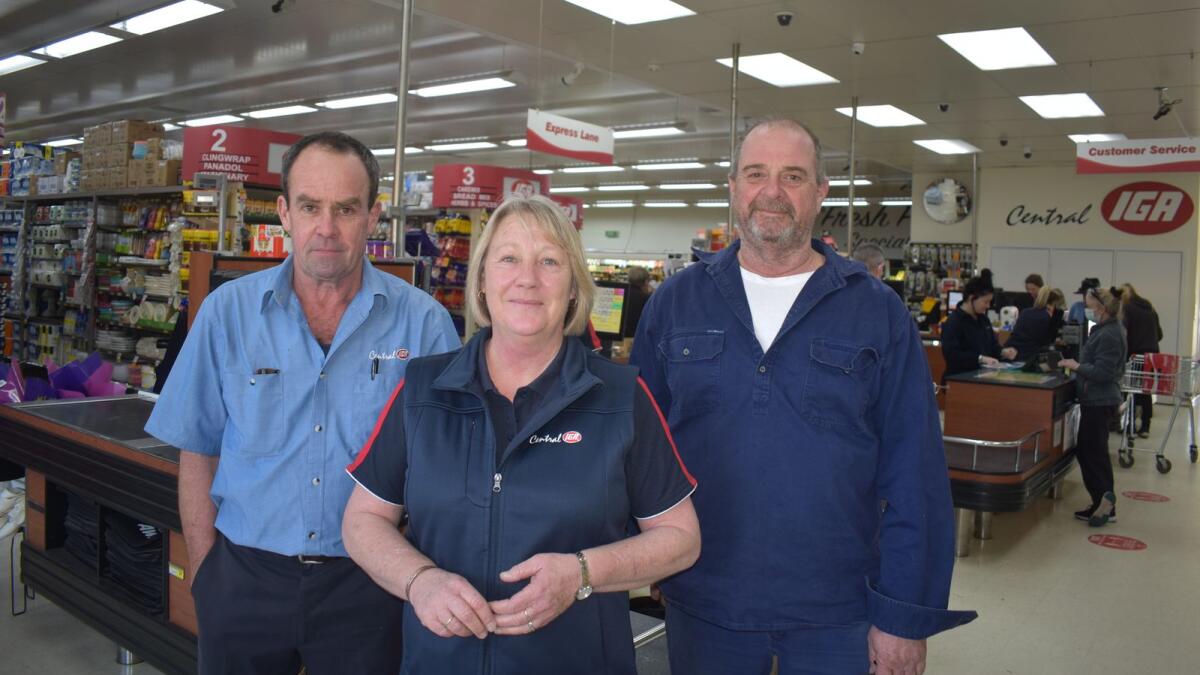 After 26 years as the faces behind Central IGA in Deniliquin, Rob Hallum and Corina and Glenn Beames are taking a step back.
Ritchies IGA, which is already a well-known name in independent grocers across the district, will take over management of the local supermarket from next month.
They will also take over management of Josh's Bakehouse and Central Cellarbrations - which are part of the IGA complex.
The Deni trio's final day as owners will be Sunday, September 11.
It is anticipated the transaction will be completed on Monday, September 12, subject to the transfer of the liquor licence.
Mrs Beames said the decision to sell was not taken lightly by the co-owners.
She said they made sure to find a buyer that has a like-minded approach to business and community.
"We felt it was time the business had fresh eyes," Mrs Beames said.
"Like us, Ritchies is very community orientated and we didn't want to sell to just anyone.
"Their processes might be a little bit different to ours, but overall they have the same values we have held in high esteem."
As the co-owners of the IGA complex businesses, Mr Hallum and Mr and Mrs Beames have always made their decisions based on what is best for the customer.
They said that was also front of mind when they decided to sell.
They have also been instrumental in supporting the town, with support and monetary donations averaging $110,000 each year.
"In the past 26 years we have been fortunate to be such a big part of our community and to help in so many ways," Mr Hallum said.
"We have been able to employ more than 120 staff, including school students doing work placement or traineeships, and those beginning their employment experience.
"We have been in a position to help so many clubs, charities, schools and events in our town and the surrounding area.
"It could be anything from helping them with a raffle prize, to sponsoring a sports team.
"All this has been made possible because of the support we have received from our customers.
"Whatever we have done, you have done so we would like to say a huge thank you for supporting us, so we could support others.
"We wish Ritchies IGA all the best, and hope they enjoy being part of this wonderful community as much as we have."
Mrs Beames said despite the change in management, customers should see little change in store.
"You will be greeted by the same friendly people, have the same variety of products and enjoy the same services," she said. "There will be a slight disruption as they change the computer programs, and the uniforms will also change.
"Apart from that, it will be business as usual."
Ritchies CEO and director Fred Harrison said Ritchies plans to build on the great business the Hallum and Beames families have have established in Deniliquin.
He said the tradition of supporting the community will continue, and highlighted that since 2013 Ritchies has distributed more than $25 million to more than 4500 local clubs, schools and charities.
"We see Deniliquin as a fabulous regional town that is continuing to grow. We also understand that many holiday makers visit the town throughout the course of the year, and we already have a number of holiday stores where we cater for holiday needs," Mr Harrison said.
"We plan to introduce more local products into the store, and encourage customers to join our loyalty program through the Ritchies App/Card, whereby you can financially support your favourite organisation.
"As a member, you will also receive personal benefits, including cheaper prices on a number of products in the supermarket and liquor store. We look forward to welcoming you to Ritchie's Central IGA once we complete the IT changeover, which may take up to a couple of days to complete.
"Just as when it was operated by Rob, Glenn and Corina, Ritchies is a proud member of the IGA team so you will continue to enjoy great weekly IGA specials.
"Ritchies also has an extensive number of additional specials each and every week, meaning even more savings for all our customers. We are proud to work hard with our team to always be 'The Friendliest Team in the Supermarket and Liquor Industry'. We look forward to your continued support once the changeover is complete."
Central IGA customers with accounts, and schools and clubs who have had an association with Central IGA, will receive a letter from the IGA team regarding changes to their accounts.
Customer Club members will stop accruing points from next week, and will need to redeem their points by September 5.