Enthusiasts show off rare vehicles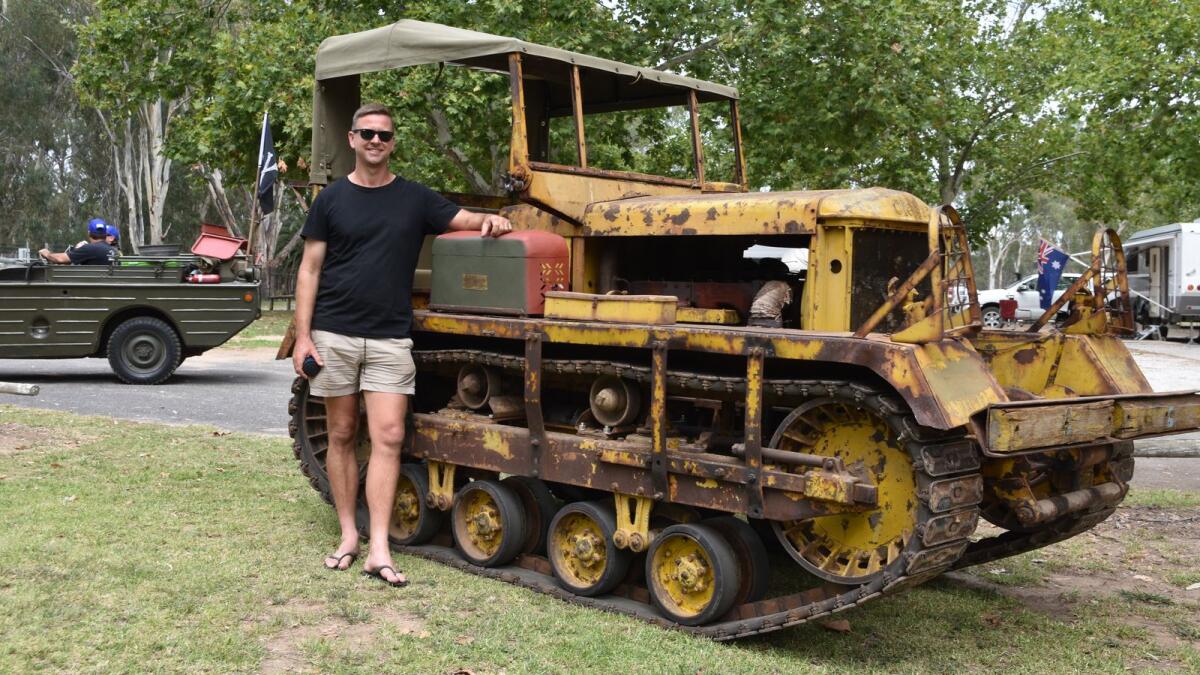 "The Corowa Swim-In is great week away, catching up with like-minded friends, playing with our toys and buying, swapping and selling stuff!"
That is according to 36-year-old Khaki Vehicle Enthusiast Jake Neville, who has been coming to Corowa with his dad and other friends since he was four years old.
"I learnt to drive in one of my dad's jeeps when I was quite young. Over the years I've restored quite a few vehicles with him," he said.
This year, the Geelong local brought his Dodge Ambulance as well as a very rare 1942 M2 Cletrac High Speed Tractor.
"The M2 Cletracs are very rare in Australia. There's not a lot of them left," Jake said.
"They were an aircraft tug that were used in the pacific during WW2 to haul heavy bombers around in the mud and sandy airstrips.
"This one was built in the United States and would have been used by the US army. It was transferred to the RAAF and used by the Australians.
"We found this on a farm in Drouin. It still has its original US markings on the side and its original RAAF number."
Jake brought the M2 Cletrac to Corowa in its original patina but does plan on fully restoring it.
"We brought it up here to Corowa as it is, because as a barn find it was just so complete and in such good condition," he said.
"It runs and drives and does everything it's supposed to do. It's also a lot of fun to drive. It does around 30km/hr so it's pretty speedy.
"It's Jeep tank on steroids!"
Mr Neville's good friend Greg Nicholls, from Somerville, brought a Morris Tilly to Corowa this year.
The vehicle was restored for Greg by Jake's father Jack Neville and another friend who also owns a Morris Tilly.
"It's a purely designed British Army vehicle. From the front it's just a normal car, and then they've put a ute back on it," Greg said.
"There are four different types from four different makers and this one is a Morris which is the rarest of the lot. Originally there was 8000 Morris Tilly's produced. Now there's only 18 left worldwide."
The 2022 Corowa Swim-In is the first major event for Greg's Morris Tilly.
"This is its debut. It's a fun little vehicle. I've had a jeep and I've had Land Rovers and a trailer, but I wanted something a bit more unique," he said.
"If I wasn't into military vehicles I'd be into Hot Rods or something like that. There's so much to love with the history and uniqueness of it all."
"It's the thrill of chasing down unobtainable parts and turning rusty old stuff into something shine and new again," Jake added.
"We scour down old barns, properties and wrecks just to find what we need."
Greg has been coming up to Corowa with friends for 15 years.
"We love coming here. It's a nice town to visit and we enjoy seeing the same friendly shopkeepers year after year," he said.