Firies recognised for their service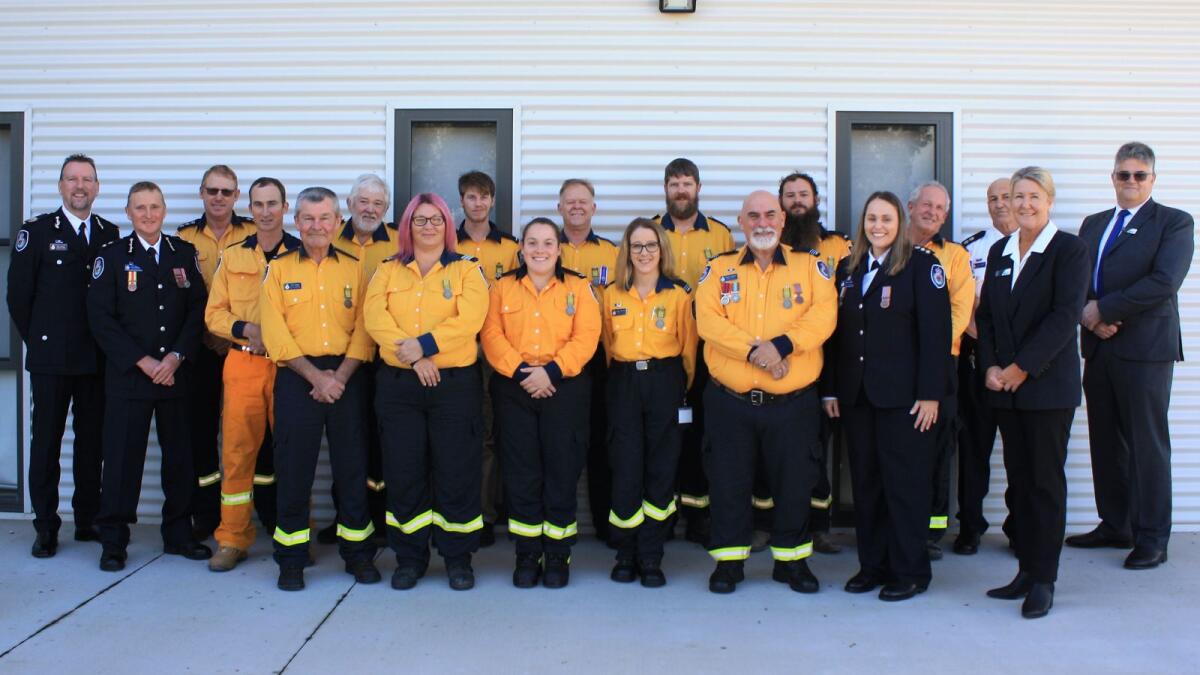 Fourteen members of the NSW Rural Fire Service (RFS) Mid Murray District were recognised on Sunday for their efforts during the 2019-20 fire season.
Assistant Commissioner Paul Seager presented the National Emergency Medal to volunteers and staff who provided sustained or significant service during the devastating fire season.
Members of the Mid Murray District played an integral part in the firefighting response during that season, including from the far north of the state to the far south involving 25 out-of-area strike teams.
Personnel were dispatched to assist with the firefighting efforts across the state, including Southern Border, Riverina Highlands, Snowy Monaro, New England, Northern Tablelands, Clarence Valley, Lower North Coast, Far South Coast, Southern Highlands and Shoalhaven.
The team rose to the challenge and continued to assist local brigades battling fires throughout the season through a range of roles, including as firefighters, communications operators, strike team leaders, rural liaison officers and public liaison officers.
NSW RFS Commissioner Rob Rogers praised the medal recipients for their courage.
"Today we recognise brigade members from across the region and thank them for their incredible contribution over the 2019-20 season." Commissioner Rogers said.
"Every single one of these members should be proud of themselves and their dedication to protecting communities across the state.
"They performed admirably during an incredibly difficult fire season and went above and beyond when deployed to other regions to help local brigades battle devastating blazes."
Superintendent Tony Whitehorn praised the hard work and dedication of the Mid Murray Zone volunteer firefighters.
"Our brigades are made up of volunteers from all walks of life, men and women from different backgrounds, age groups and professions," Supt Whitehorn said.
"They are a reflection of our local communities and we are fortunate to have them on hand to help us during times of emergency.
"Volunteers are the backbone of the service, everyday people who give up their own time to provide assistance to others."
In honour of National Volunteers Week, Supt Whitehorn said it was a perfect time to recognise the Mid Murray RFS members for their tireless efforts and encourage the community to join the fight and become a volunteer.
"In the Mid Murray Zone, we have 51 brigades who are made up of men and women from all cultural backgrounds and professions, making each brigade a reflection of the local community it serves.
"The people living in the Mid Murray Zone area should all be exceptionally proud of our NSW RFS volunteers.
"Becoming a volunteer with the NSW RFS is a straightforward process and we provide all the training required to fill the role you wish to take on," Supt Whitehorn said.
The recipients of the National Emergency Medal are:
Nicholas Bath, Deniliquin Brigade; Damien Fullerton, Deniliquin Brigade; Scott Fullerton, Deniliquin Brigade; Dylan Gilpin, Deniliquin Brigade; Mandy Hyde, Deniliquin Brigade; Katie Nightingale, Deniliquin Brigade; Keith McAllister, Group 4 Group Officer; Trevor Clark, Mayrung Brigade; Wayne Fitzpatrick, Mid Murray Support Brigade; Nissa Henwood, Mid Murray Support Brigade; Frederic Darazs, Mid Murray Support Brigade; Reginald (Norm) Braine, Myrtle Park Brigade; Kevin Clancy, Wandook Brigade; Terry Campbell, Mid Murray Zone Staff.