KVE's 42nd Swim-In Spectacular!
A total of 255 vehicles and over 1,000 people made for a spectacular 42nd Annual Corowa Swim-In & Military Vehicle Gathering from March 14 to 20.
In this year's, Year of the RAAF and Year of the Jeep, there was a total of 107 jeeps, usually Ford or Willys. Ford Jeeps totalled 58 and 49 Willys were registered in the event.
"The organisers were surprised with the numbers of participants who attended especially after we postponed our 2021 event," chief organiser Jan Thompson told The Free Press.
"There were past participants who were unable to attend this year due to various reasons and we had an influx of new participants which is great for the local Federation Council area. Over the week most participants now attend for the whole event and even longer.
"The local caravan parks, hotels, cafes and all businesses benefit from our participants. In total, there would have been over 1,000 people in attendance during the week."
There were three sightseeing trips. Last Wednesday a large group went to the Hume Weir and visited Frontline Machinery, the trip being organised by Kel Baxter. On Thursday Deborah Birrell organised a very successful trip to the Tocumwal Aviation Museum, Chrysties Museum and the local Tocumwal area. Last Friday's trip ended up being a visit to Chiltern with some 4WD, organised by Sam King.
"Adrienne from The Free Press visited on Tuesday and Thursday, so we made sure that Leo and Adrienne experienced what the event is all about. Having rides in different vehicles was a highlight for both of them!"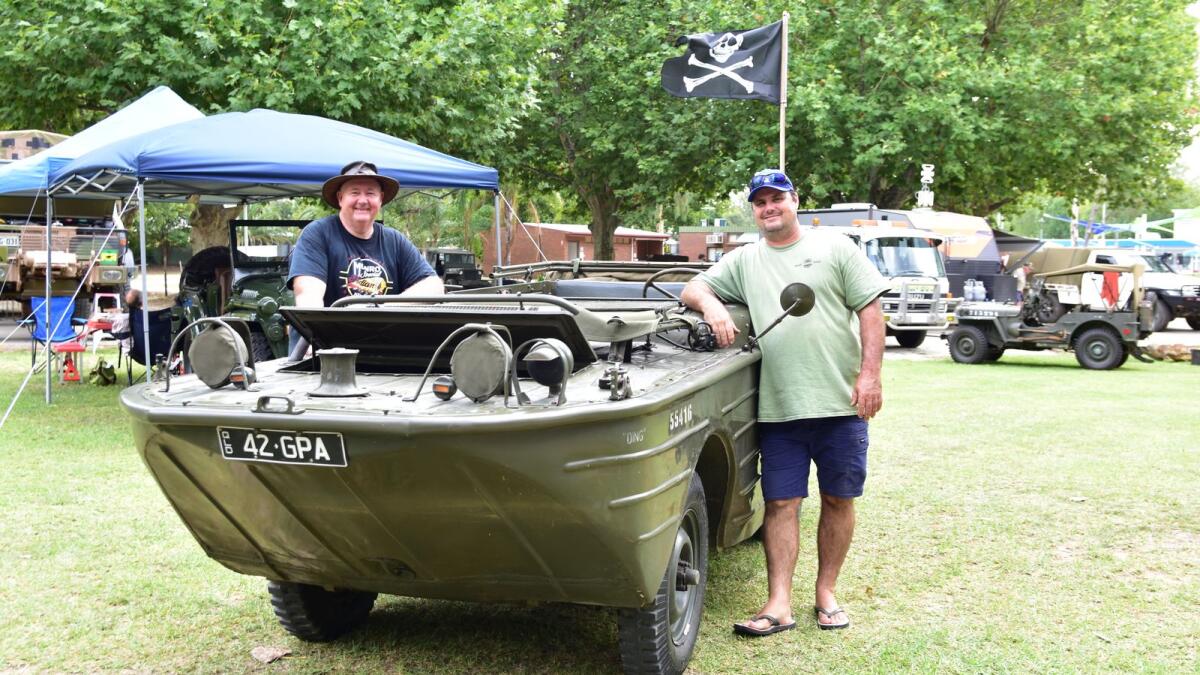 With COVID regulations changing just prior to the event organisers had already decided not to have a parade and indoor activities so kept to the plan that the committee decided to take a month prior. "We will do a parade next year," Jan said.
"The drive out to the showgrounds was done so people could make their own way there. Many thanks to (show secretary) Jan McKenna who assisted us once again. She is a great asset and is very organised ensuring all the stallholders are happy.
"Sonia and Andrew Palmer of Ball Park Caravan Park were extremely helpful and people camping were happy to be able to use most of the caravan park."
With the river level was a little higher this year, amphibious vehicles were able to use the lagoon and the river. Two DUKWs, seven GPAs and a LARC were in and out of the water each day.
"How great it is to be back in Corowa after two years!" Jan said. "In 2021 we postponed our event but some of the participants had their own private gathering. With the normal formalities this year it was great to see the happy faces and the businesses in town all embraced us.
"There are some particular groups and individuals we would like to thank. The Federation Council helped out with a Community Grant and when they were approached, helped us with bollards and mesh. Sonia and Andrew Palmer of Ball Park Caravan Park, and other workers in the park provided us with a site for our Radar Van. Jan McKenna did an amazing job with the Swap Meet. Despite some cancellations.
"Thanks to Julia Begelhole for taking up a couple of shifts on our Site Office. We are always looking for people to help registering our participants and the easiest way to do this was to open our Site Office from 8am to 6pm.
"The Rotary Club attended the Swap Meet and participants were able to purchase breakfast, morning tea and lunch. We have had their support for a number of years, and we really appreciate the service they provide."