Rotary supporting cancer fight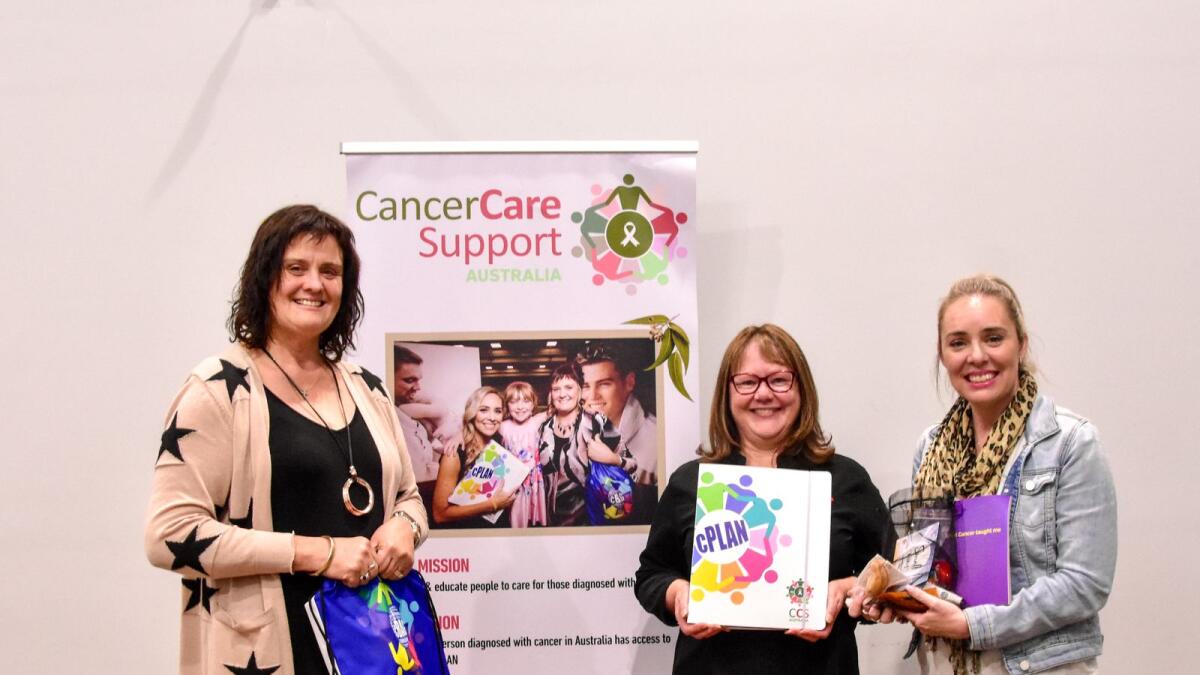 The Rotary Club of Corowa and District have thrown their support behind the Albury Wodonga Cancer Foundation' cBAG (care bag for cancer) and cPLANs purchasing 25 kits which will be distributed to locals who are facing a diagnosis.
The cBAG and cPLAN project is an initiative of the not-for-profit community-based Albury Wodonga Cancer Foundation in partnership with the Albury Wodonga Regional Cancer Centre Trust Fund.
The cBAG includes a variety of items including fluffy socks, hand warmers, contacts for support services and items to ease sickness, while the cPLAN helps patients and carers to track their disease and keep their paperwork in order.
Cancer Care Support Australia chair Cristy Jacka, who lost her husband Karl, to cancer in 2017, and vice-chair Jenny Jensen, whose 24-year-old son Ricky died from leukaemia in 2009, are the driving forces behind the cancer kits launched in 2019.
The pair spoke to the Rotary Club of Corowa last Wednesday, explaining how the cBAGs and cPLANs are beneficial to those going through the cancer journey and an update of future projects.
"Our project is about supporting people in the most vulnerable stage of their life," Ms Jacka said.
"Being a teacher, and someone who loves to have everything organised and labelled, I couldn't understand why something like the cPlan wasn't available. I designed it to fit what Karl and I needed when he went through his cancer journey, and it saved so much time."
Ms Jensen said the cBag allowed patients to have access to information and tools that would help patients through the most challenging stage of their life.
"Over the years we were learning different things like how mentos can get rid of the metallic taste in your mouth during treatment. We had all these titbits of information and we thought… why can't we put that stuff together so that everybody has these tools that makes this horrible journey just a little bit better," Ms Jensen said.
"There's a dread that fills you when you or someone you know is diagnosed with cancer. Having thse bags and planners just allows the patient and carers a little of control in a situation where you lack control."
Ms Jacka said over 2000 bags have already been distributed into the community in just over two years.
"Our boys have been able to help over 2000 people through their cancer journey which is mind-blowing," she said.
With the support of Rotary Clubs, Ms Jacka and Ms Jensen hope the project will be launched Australia wide.
"We are so grateful to the Rotary Club of Corowa for the support," she said.
Rotarian Dr Ayon Guha said the bags would be distributed through the Corowa Medical Centre.
"A cancer diagnosis is a very disorientating time for patients and their families, and these kits will allow both parties to remain focussed," he said.
"It's so important for carers to have that control and be able to show the doctors a detailed plan of where their loved ones are at on their cancer journey, what medication works and what doesn't. Having the information all together is so important, particularly when they are seeing different doctors at different stages of the journey."