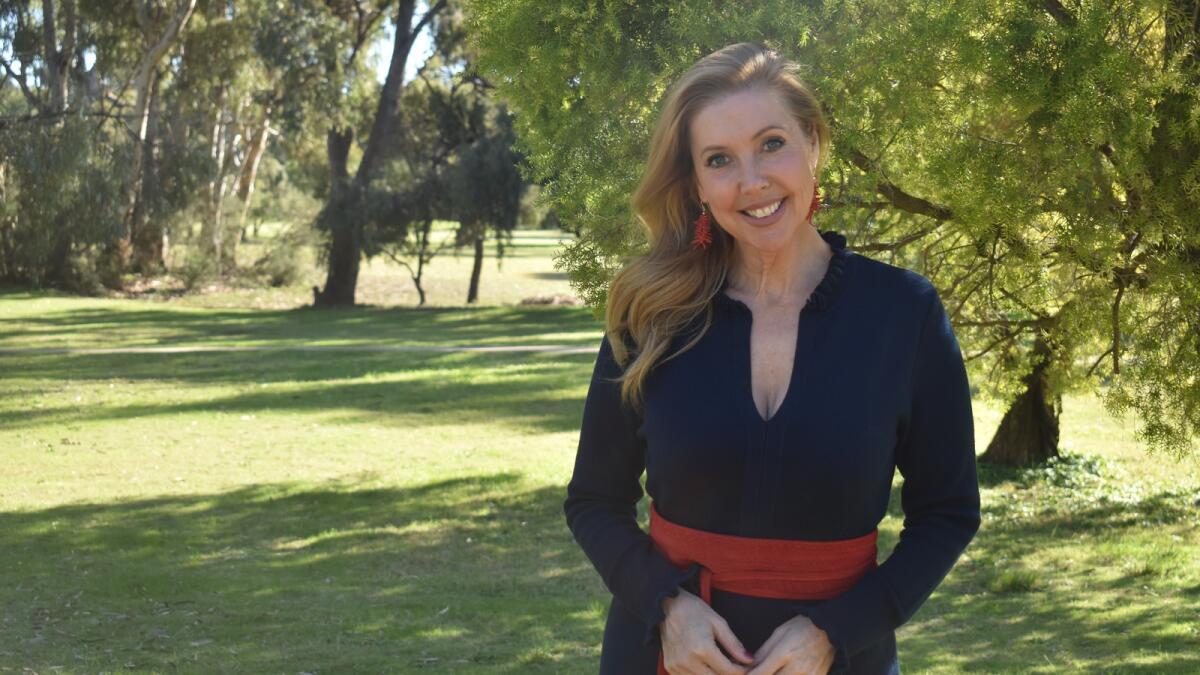 Deniliquin was buzzing this week with news that there was a popular Australian celebrity roaming around town.
Getaway host Catriona Rowntree was hitting all the Deni hotspots, filming for her newest show Country House Hunters on Nine Network.
Now in season two, Rowntree is continuing to help Aussies find their dream homes, while supporting regional towns and communities throughout Australia.
And lucky for us, Deni will be the subject of the newest episode.
Talking to the Pastorial Times on Tuesday, Rowntree expressed her excitement to be back in Deniliquin.
"I feel so blessed because since the crew has arrived we have had nothing but blue skies and bird song," she said.
"It's autumn so the trees are beautiful, the light is amazing and everyone we have been working with has been fantastic.
"For this show you really want to present all our regional towns in the best light and Deni has really turned it on for us."
Rowntree said she had visited Deniliquin a few times to see local friends and was our Australia Day Ambassador in 2015.
"There is such a movement since COVID for people to leave the big smoke and head into the country," she said.
"Deni is obviously one of many around Australia that we are filming at where right now real estate is hot.
"People are moving here in the droves, they want a slice of this glorious lifestyle."
Rowntree herself was introduced to the lifestyle when she moved from Sydney after falling in love with a farmer, and created her dream home in regional Victoria.
"I was able to key into this lifestyle when I first married my farmer," she said.
"My boss was like, as long as you can get to an airport I don't care where you live, so that was when I realised I can have the best of both worlds."
Rowntree said Deni was the perfect place to have just that.
"You are a few hours' drive from the hub of Melbourne, you've got an aerodrome, so you have everything you need here," she said.
"But the appeal of Deniliquin is the community, which is something you cannot bottle, you cannot buy and what really sets this town apart.
"It's also something which in a sense is very difficult to film — the positive energy and kindness of the local community, which is the major appeal of this place.
While only in town for a few days, Rowntree and her team have kept very busy.
"I'm married to a farmer, so as many of the readers will understand, right now we're sowing so it's pretty challenging for me to be on the road," said Rowntree.
"But today (Tuesday) is more about the properties and then tomorrow we will be heading out around town a little more.
"We started the morning on the river and will be heading more into the bush next, and of course stopping in to the local real estate.
"Tomorrow we will be visiting the depot, the Crossing Cafe and filming all around town."
Rowntree and her crews were also spotted visiting Kate Small Designs, the Waring Gardens and having some coffees at Harry Pepper.
While Rowntree was not yet sure of the exact date the show would air, she was excited that she was able to showcase Deni in a timeless medium.
"As life should have it the sort of shows I've been involved with, Getaway and now Country House Hunters they're timeless and dateless.
"They are repeated constantly for years at a time and then sold all over the world, which is another element about coming to this town, it will get constant exposure for years to come."