"Treat us equally"Indigo Shire budget concerns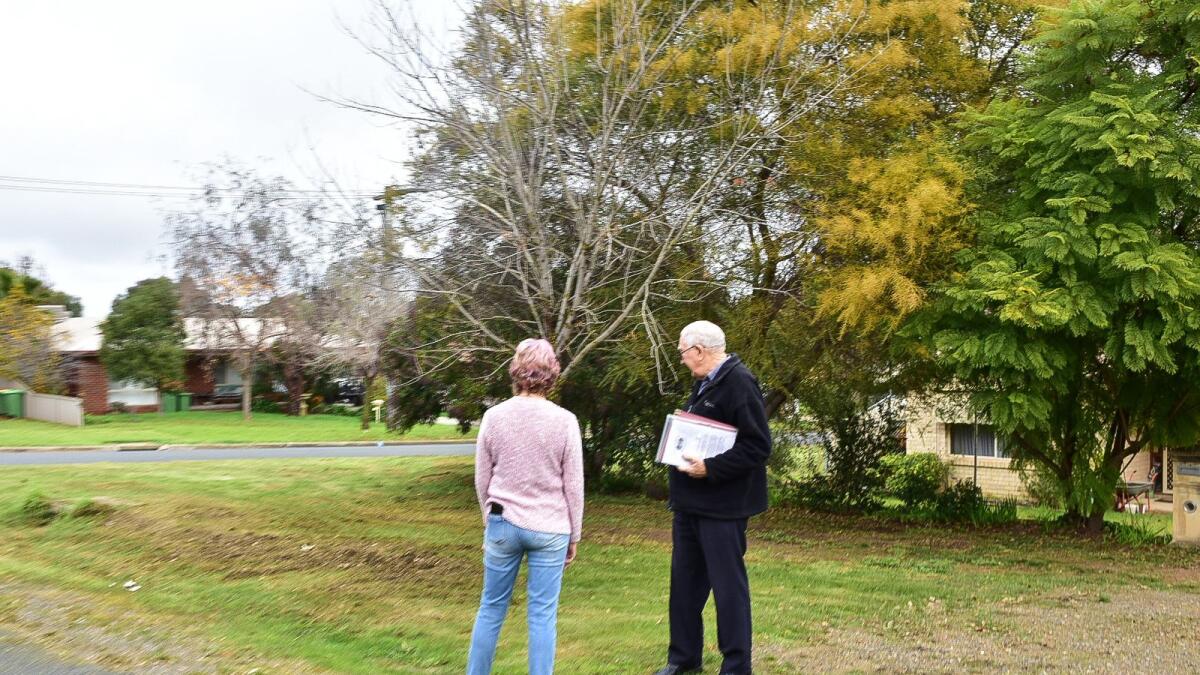 Sixteen years of pleading with council for adequate drainage has fallen on deaf ears for a Wahgunyah resident, after her concerns were overlooked in the recent Indigo Shire draft budget.
Hilda Strachan has endured eight flooding incidents since purchasing her Foord Street home in 2003.
Mrs Strachan said the issue is a result of inadequate drainage on the southern end of Foord Street, which she has raised with Indigo Shire Council each time the flooding has occurred. She says the solution is as simple as installing concrete kerbing to guide the water to the drain across the street.
"It's gotten to the point where I dread summer, and worry about any storm or major rain event," she said.
"I pay my rates, and all I'm asking is for is to be looked after and to feel safe and protected in my own home."
Last week, Wahgunayh resident Alan Pleitner, representing the Wahgunyah Progress Association (WPA), was one of five residents from across the shire who addressed council's draft budget at a special meeting in Beechworth.
Mr Pleitner spoke about a document submitted to council earlier this year from the WPA highlighting Wahgunyah's top priorities including drainage plans, a footpath for Dennison Street and the Rail Land development masterplan.
"The point of doing that is we believe that we know best about our town, about our people, about their needs and their desires. We submitted that document so that it would become part of the consideration in the development of any future budget," Mr Pleitner said.
"The first matter we raised was the completion of the drainage plan for the town. We had raised the issue of flooding from the best of my knowledge from 2006, particularly in Foord Street and in Victoria Street. We still have a problem in Foord Street.
"In 2013, the then director of infrastructure services Alan Clark, listened to our problems. He then went to develop a drainage management plan, because there was none in existence at that time.
"Part of that was addressed, however the problem at 55 Foord Street has never been addressed and was flooded twice recently, prior to Christmas and in January this year when everybody got whacked.
"Mrs Strachan can't keep going on for another 15 or 16 years waiting for council to do something."
Mrs Strachan told the Free Press she received a response in April this year which indicated kerbside channelling in Foord Street was not budgeted in the current year. In fact, Mrs Strachan is expected to wait until the 2025/26 financial year.
"That would be the 20th anniversary of when we first brought it to council's notice. Surely, we can do something about it after 16 years?" Mr Pleitner said in last week's meeting.
Mr Pleitner also raised drainage concerns in Victoria Street which he described as "dangerous" with flooding not visible to oncoming traffic.
"We need to ensure that we don't lose lives by not fixing the drainage problems in Victoria Street."
Mr Pleitner told the Free Press that residents in Wahgunayh deserve to be treated as "equals" with the rest of the shire.
"We don't ask for much, but we do deserve to feel safe and secure in our own home," he said.
Rutherglen resident Herb Ellerbock also addressed council's budget at the submissions meeting, discussing the inequity of spending across the shire as well as the spending on cycling infrastructure.
"From mid-December 2021 to February 25, 2022, an online survey sought community input into the development of Council's Draft Budget. The key sentiments expressed in the 311 responses were, council spending across the shire is not fair and equitable; council has been derelict in its general maintenance and upkeep of parks, public toilets, roads and footpaths; council should reduce spending on cycling infrastructure; council should focus its spending on maintaining and improving existing infrastructure; and council should prioritize spending on drainage, kerb, and gutters, which is not surprising, considering the extraordinary flood events of January 2022," Mr Ellerbock said.
"While minimal consideration is given to improving drainage, kerbs, and guttering, none of the other major concerns raised by the community have been addressed in this Draft Budget.
"So, the over-riding sentiment of survey respondents, that council fails to listen to the community, would come as no surprise.
"Annual budgets must respond to current circumstances and where necessary, override those longer-term objectives, but primarily, the budget must reflect the expectations of the community which this draft budget does not do.
"Councillors should be reminded that they represent the whole of the Indigo Shire, and not just their own community. They are not there merely to rubber-stamp what council staff put in front of them."
The 2022/23 draft budget was endorsed last month with Cr Roberta Horne the only councillor voting against the budget, expressing concerns about the total funding on cycle paths.
Indigo Shire CEO Trevor Ierino publicly thanked all the submitters who took the time to review the draft budget and provide their feedback.
"Never before have we had such a high level of community input and influence in the development of our budget. From the 300 plus people who participated in our pre-budget survey to the 18 who wrote a formal submission, we read what you had to say, and we have listened," he said.
"We have made a number of changes to the budget and where possible we have increased funds in some areas as a direct result of the pre-budget survey and the community feedback. Council will consider the final budget at its 28 June meeting.
"In addition to input into the budget, the community feedback has also provided us with valuable insights into community sentiment about council. Several themes emerged with the most common being investment in cycling infrastructure and equity of spend across the shire.
"With respect to cycle trails, it's important to stress that there is no new council funding in the 2022/23 budget for cycling infrastructure."