Seymour legend Mick O'Donnell inducted into Goulburn Valley League Hall of Fame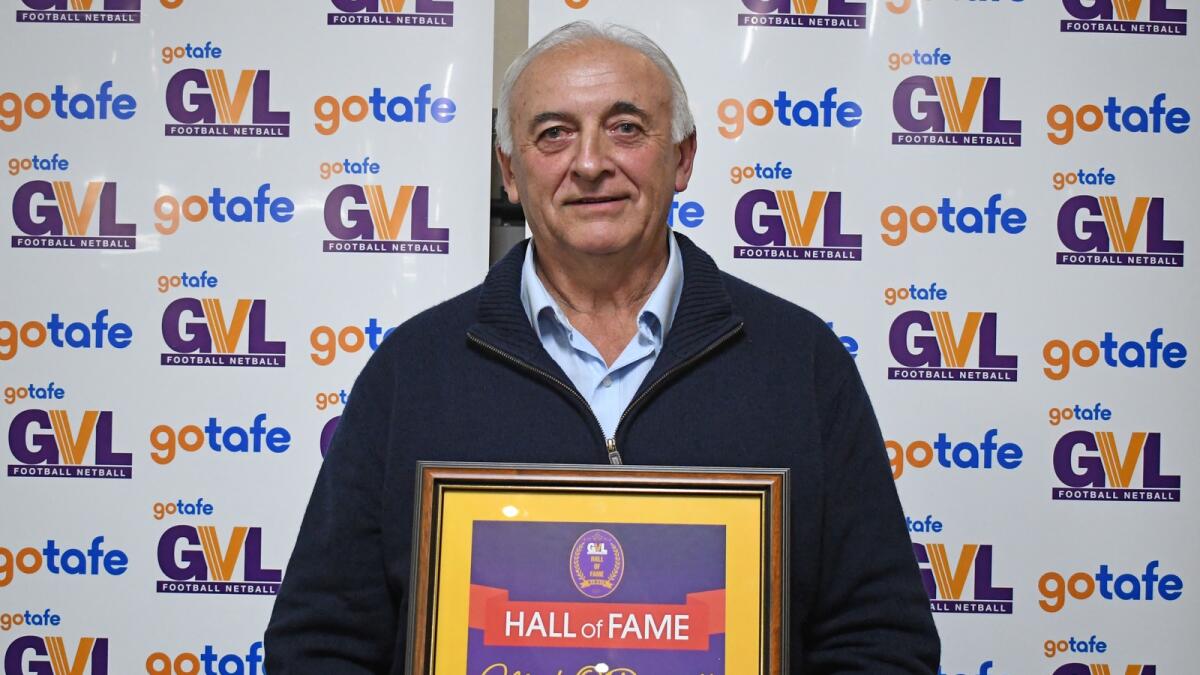 Seymour Football Netball Club legend Mick O'Donnell can now call himself a Goulburn Valley League Hall of Famer after he was inducted alongside five of the region's most decorated footballers as part of the class of 2021 at Shepparton RSL on Sunday night.
O'Donnell is an icon of the Seymour Football Netball Club, playing 314 senior games, featuring in three of its premiership sides and captaining the club to its 1982 GVL triumph.
A life member of both the Seymour Football Netball Club and Goulburn Valley League, O'Donnell is a best-and-fairest winner, Seymour Team of the Century member and in 1989 received the 'Lions Pride' outstanding achievement award for his contribution to the club.
A local footballing legend in every sense of the word, O'Donnell said it was an honour to be recognised as a GVL Hall of Famer.
"It was a wonderful experience to be inducted into the hall of fame alongside five other legends of the region," O'Donnell said.
"When I initially got the phone call I thought 'really, you want to induct me?' It was certainly a bit of a shock, but I am so proud to be included and represent the Seymour Football Netball Club."
He enjoyed a career filled with premiership success and incredible individual accolades, and O'Donnell outlined some of the standout moments from his football journey with the Lions.
"After being successful in underage football and going into the seniors, I was fortunate to play in a few grand finals for the club in the old Waranga North East League before winning one in 1974 to be put into the GVL," he said.
"Then being accepted into the GV and winning it in our first season, that was a definite highlight and a fantastic achievement by everyone at the club.
"In terms of a personal one, captaining the seniors to a flag in 1982 was special. I always believe in team success first, but looking back I am very proud I was able to achieve that."
Retiring from football in 1989, O'Donnell has remained an active part of the club, plying his trade as a reserves assistant coach, runner, selector, advisor and Vic Kick co-ordinator.
He said the club held a special place in his heart.
"Being a part of this great club for so many years, it is hard to describe the joy it has given me," he said.
"Coming out of the junior ranks with my mates, it was always my dream to play seniors for the Lions, so to be able to do that for so many years was incredibly enjoyable.
"Following my playing days, I have loved being involved in so many areas of the club and being part of the tight-knit community."
One of six new inductees into the GVL Hall of Fame, O'Donnell was joined in the class of 2021 by dual Morrison Medallist Eric James, Kyabram legend Laurie Casey, Mooroopna stalwart Jeff Vandermeer, Euroa president Scott Watson and Shepparton United/Swans icon Wayne Ford.