Under-17s win big for Blighty
Blighty's senior side had a tough loss in round 13 of the Picola and District Football League to seventh place side Berrigan.
The side fought hard but the Saints were just too strong for the undermanned Blighty side.
Final score: Blighty 3.2 (20) to Berrigan 27.14 (176).
The seconds had another rough day, with a number of injuries about the club leaving the side scraping at the barrel for players. However, with help from the thirds Blighty were able to put a side together.
The score was one of the most disappointing things to see on paper this year, but it won't take anything away from the working battlers that show up week-to-week knowing they are up for a tough game.
The first half was definitely a disappointing start, admittedly unorganised and unprepared for the fight.
Second half was a little different, with the Redeyes putting together a good structured centre that started winning clearances, showing Berrigan that we were a side to fight against.
They started winning the footy out of the middle, with a little constructive talk through there.
Getting it to the centre half forward over and over, but just not quite getting it together once the possession was lost. Blighty struggled all day but did not let up.
They set a motion and speed to play out a game of footy which showed in the second half.
The boys are showing great companionship.
Best ons were, Riley Webb (thirds) who is tough as nails and Paul Waters, a 42 year-old who thinks he's 20.
Blake Knight was brilliant down back with massive pressure, and Matt Hay had consistent pressure and tackling.
Last but not least was Ethan McLeish (thirds) who, when told to take the reins off and run like a wild brumby, took the game on like a true champion.
Not a great result but the coaching staff took a lot of positives from the game.
Final score: Blighty 0.0 (0) to Berrigan 28.19 (187).
In slippery conditions at Berrigan on Saturday, the thirds boys were fired up and ready to play footy.
In the first quarter it was an arm wrestle, with both sides playing some good football.
Coming into the second quarter we made a couple of small changes and the boys started to find space and move the ball forward.
After the main break, the boys came out focused on what they had to do and took full control of the game.
In the last quarter, Blighty just kept running and putting the pressure on Berrigan to come away with a good win.
Best on was Bryce Lea for playing a ripper, running hard all day.
Jack Gavel again impressed, playing half back with solid defence.
Riley Webb and Will Doolan also received awards for playing a great game.
Final score: Blighty 12.10 (82) to Berrigan 3.5 (23).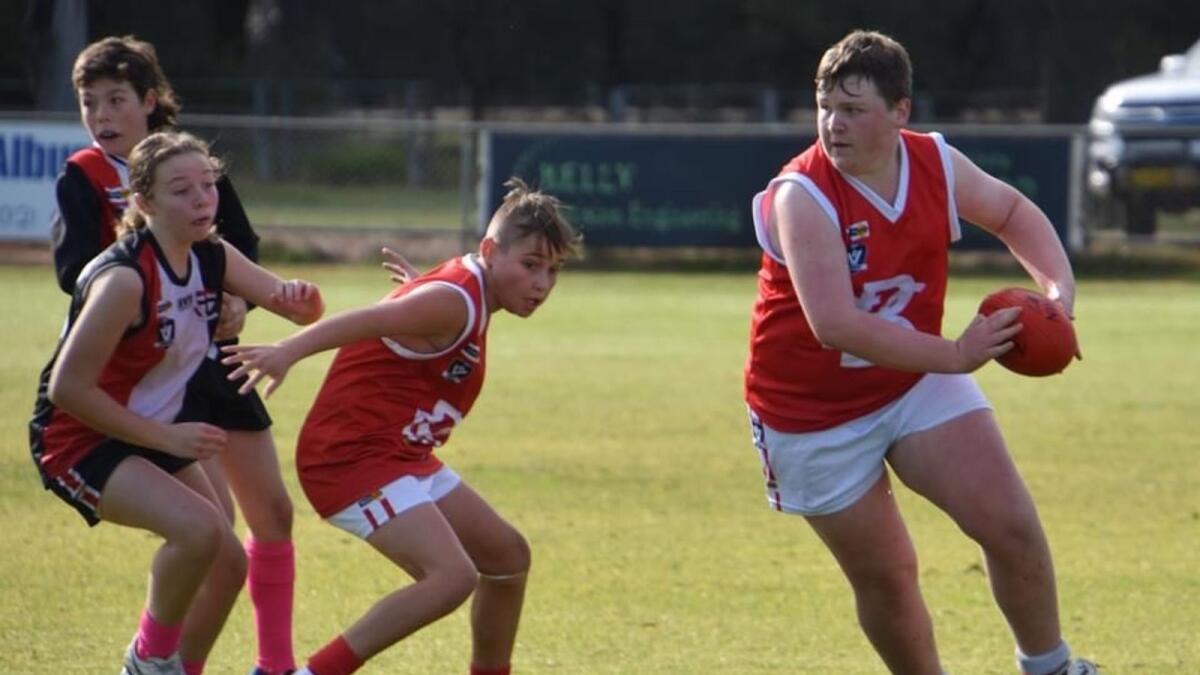 It was a disappointing game for the young thirds, and one that they will definitely learn from.
There was a handful of guys who really gave 100 per cent, put their head over the ball and lead from the front, but unfortunately we had too many passengers which allowed Berrigan to get out in front and use their players without contest onto easy goals.
Better players for the day were Cobi Johnson, who was in absolutely everything.
Gus Lawson showed his dominance up forward with some amazing contested marks, and his ground ball work was really good as well.
Reagan Macdonald is really starting to turn full-back into his own position. He held strong and played a brilliant game down back.
Henry Knox played a great game out of the centre and wrapped up possessions all around the ground. It was great to have him back.
Jarred Hislop had a bit of a slow start but really worked hard to get back into it towards the end of the game, stopping countless attacks into our back line.
Xander Strong had another cracking game, not stopping, giving percent and playing great football.
Final score: Blighty 3.10 (28) to Berrigan 10.6 (66).
Blighty's under-11s came up against a very strong and quality side as they travelled to Berrigan for the day.
With the Redeyes a little undersized, we struggled to get the ball in our hands and flowing down their end of the ground.
But that didn't worry them, as each individual played their role and all contributed to the game.
The first half was tight, with the side trying to not let the ball slip away on us.
In the second half the youngest Redeyes found their feet and managed to get a score on the board.
When they did get the ball rolling, the passages of play were brilliant.
Best on went to Seth Boyer who battled hard all game playing at full-back and had a cracker of a game.
Ben MacDonald also received an award for his efforts playing all around the ground.
Andrew Frost was next, and again had a hard day playing in the guts.
Jack Murray was also rewarded coming off the forward flank, where he provided a lot of pressure and played an awesome captain's game.
Logan Andrews was next off the rank, playing a ripper game. His tackling was second to none, and his attack on the footy was outstanding.
Last but not least was Charlie Tremble, who was also rewarded for the solid effort he put in all day. Running off the back flank, he provided a lot of opportunities and passages of play throughout the game.
His tackling and teamwork was awesome to watch.