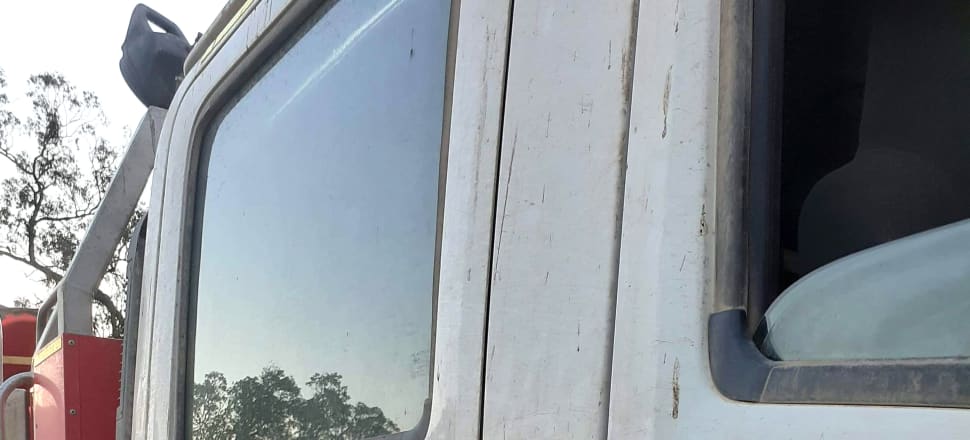 5370537724001
Nine local firefighters are among the throng of emergency services personnel tasked with combating the 'Catastrophic Tuesday' fire conditions in parts of NSW today.
Five firefighters from Deniliquin Fire & Rescue NSW will arrive in an area of fire ravaged NSW later today, in the southern slops region, where they will then learn if they are to be sent immediately to the fire grounds.
Departing early this morning were Deputy Captain Glenn Carr and retained firefighters Stuart Muirhead, Bec Biggs, Ben Purtill and Dylan Osborne.
Already in the Grafton area are NSW Rural Fire Service Mid Murray Inspector Doug Adamson, and RFS firefighters Kevin Barnes (Caldwell brigade) and Fred Darazs (Moama).
Mid Murray Commander, Superintendent Tony Whitehorne departed for Narrabri yesterday in a pre-emptive move to offer his support to the firefighting efforts.
Another RFS strike team of nine is being formed to deploy on Thursday.
Deniliquin FRNSW may also send another strike team if necessary this week.
The local firefighters will face what the NSW RFS yesterday described as ''the highest level of bush fire danger''.
Residents in the the Greater Sydney, Greater Hunter and the Illawarra Shoalhaven areas have been warned that ''if you are in the path of a fire in these conditions, your life will be at risk''.
Three lives have already been lost as a result of the fires in NSW, and more than 150 homes and other buildings destroyed.
It prompted NSW Premier Gladys Berejiklian to declare a State of Emergency yesterday.
''Strike teams are being strategically placed all around the state, ready to make a quick response in these catastrophic conditions,'' FR NSW Captain Martin Smith said.
''Strike teams that are already there will continue to work as they have been, we are just putting in extra protection to be prepared for any situation these conditions will bring.
''If more personnel is needed, we will send another strike team to replace the guys already there after five days.
''It helps to avoid the dangers of fatigue, especially on an active fireground.''
Mid Murray RFS has been sending strike teams to assist in other parts of NSW on an ongoing basis for the last six weeks, with senior officers saying they have ''lost count'' of how many have been deployed to date.
Among a strike team returning last week was 20 year-old Daniel Smits, who fought fires shoulder-to-shoulder with his father Lawry and others from the wider district.
They were based near Grafton.
''It was a sobering and confronting experience,'' Daniel said.
''When we first arrived it was quite relaxed until we got to our first briefing. From there things got tense and serious very quickly.
''It was a two hour drive up the mountain which was very steep and from there you could see the cliff's face where trees were on fire and rocks falling down as fire swept through.
''It was confronting, especially from how quickly the dry bushland turned into black, burnt out areas and how quickly the fire moves and how intense it can get.''
The blazes Daniel and the crew were facing were so intense, the stickers on the fire appliance they were using started to blister.
Also recently returning from a RFS strike team deployment was Mid Murray Support Captain Wayne Fitzpatrick, who said the severity of the series of blazes is most notable in the evenings.
''I flew over the fires on the way there and it didn't look good, especially over the New England, Grafton, and Glen Innes areas,'' he said.
''When we arrived, we were in the National Park at Mt Kaputar fire in Narrabri doing the swing shift which is 12 hours from midnight to midday. We worked with other RFS volunteers, National Parks and Forestry.
''We were just trying to contain the fire in the National Park, so it didn't get out and we didn't want it to destroy too much.
''While we were on the edge of this fire, you could understand and see how big this really is from where we were. It is already about a couple thousand hectares, which is quite a large fire.
''Sometimes you couldn't see the flames in the daylight but as soon as night fell, you could see these huge lines of fire and flames everywhere which really showed you the extent of it all.
''The effort put in by the volunteers from the Rural Fire Service and everyone there has been incredible.
''You think about how many firefighters are needed for the 70 odd fires burning in the area, and a lot of them are RFS.''
A state wide total fire ban put in place yesterday continues today, and advice on whether it would be extended was not known at the time of going to print.
Capt Smith said despite a number of local firefighters being deployed to other parts of NSW, the community will be predicted if a fire ignites locally.
''We still have a sizeable crew and our two main firefighting appliances which can respond to any emergency situation in the area,'' he said.
''The appliance we are sending is actually our spare at the training centre so this will have no impact on the community and our ability to respond to callouts.''