Tradie farmer opens up avocado orchard
By Carly Marriott
As a young man, Dave Murphy was a fitter and turner by day and bouncer by night, who would escape from the city to holiday with his young family in a tent on the banks of the Murray River at Barooga.
Today, Murph — as he is known — lives in a refurbished homestead with 90ha of productive farmland and 1km of that same river frontage to his name.
"Some days I pinch myself when I think about where I've come from," he admits.
Murph, 55, looks at home at Murray Park among his 20ha avocado orchard and 50-odd beef cattle. But his expertise lies in civil construction.
"I got into civil work by mistake; I burst a water main doing a job for a plumber and when I told the Public Works what happened, they asked me to fix it."
Fast forward 20 years and Murph had built his own civil construction company, DKM, specialising in Melbourne water mains with upwards of 200 people relying on him for wages.
Dave and Kim Murphy have three adult children who all work within the Melbourne-based business, with Ashlea, 28, managing compliance; Schae, 26, working in HR and accounts; and Jake, 23, sub-contracting with his own truck, backhoe and excavator.
Murray Park is east of Barooga in southern NSW, the site of the original Brentnall family citrus orchard that provided oranges for the Brentwood fruit juice factory between the 1960s and late 1990s.
The factory was established during a decline in demand for fresh fruit, giving local fruit producers an alternative market for their produce.
Since 2012, the farm has been Murph's retirement project and — with the help of his earthmoving equipment — has undergone a major overhaul clearing away the established orange trees.
"A few neighbours laughed when they saw me using a 20-tonne digger to clean up, but it did a good job."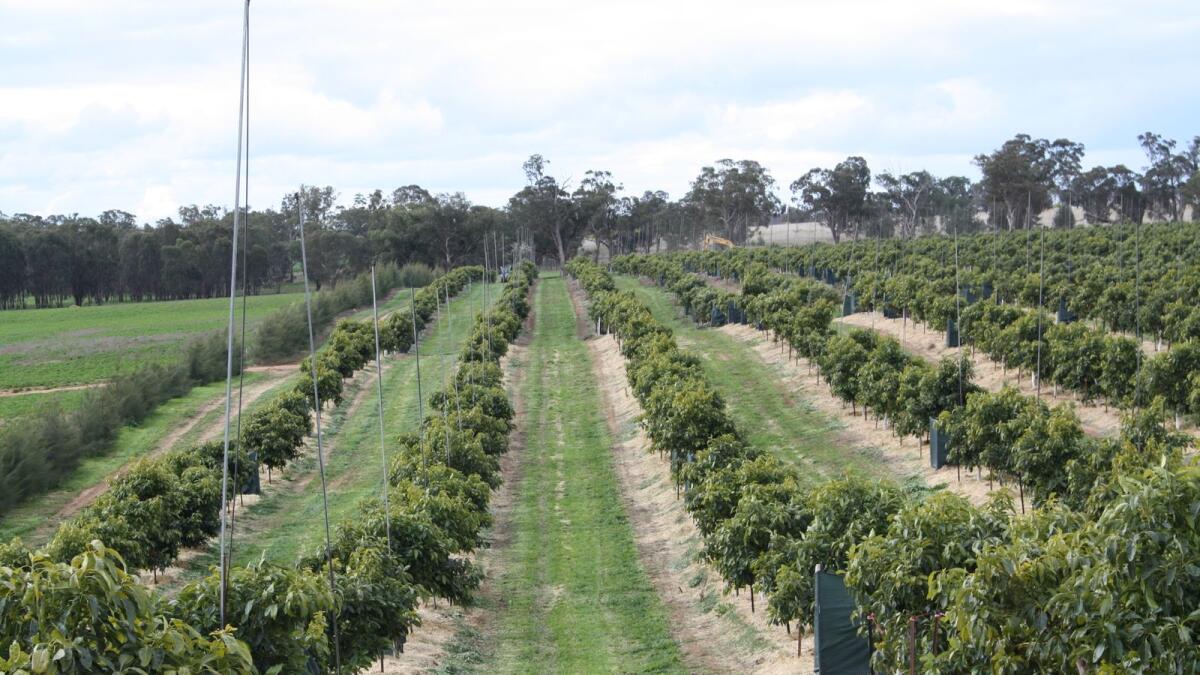 Murph, who confesses he gets bored easily, needed a challenge so did some research and decided to plant 7900 Hass avocado trees in 2018.
Farming poses unique hurdles and Murph has been made to jump most of them in his short time on the land.
The trees endured record-breaking heat in 2018 just after planting, followed by strong winds during the drought of 2018-19 with 100 trees needing to be replanted.
Initially every tree had shade cloth placed around it using bamboo stakes, however they weren't fit for purpose so were replaced with star pickets.
"I've made mistakes because I'm a novice; this is the first thing I've ever grown," said Murph, who also had a crash course in battling root rot when 2020 was a non-stop wet year.
A fighter by nature, Murph no longer deals with unruly clients — he is now up against the elements, especially the threat of frost damage to his high-value crop. To date, he is winning — thanks to his 12m-high frost fans and hawk-like eye on numerous weather apps.
This spring, the orchard is reaping its first harvest — and Murph considers this a "learning year".
He has secured labour to harvest the crop and has established connections to assist in the wholesale marketing of his produce.
Prices are the next challenge; food outlets are having trouble moving stock due to COVID-19 restrictions.
Once harvest is complete, he will spend his time checking moisture meters and enjoying summer on the river with his family — just like he always has.